---
QikTRAY is a modular cable management system designed to get cables off the floor, providing a tidy and safe solution to an age old problem.
---
---
Price Breaks
| Quantity Purchased | Discount |
| --- | --- |
| 25 - 49 | 5% |
| 50 - 99 | 10% |
| 100 + | 15% |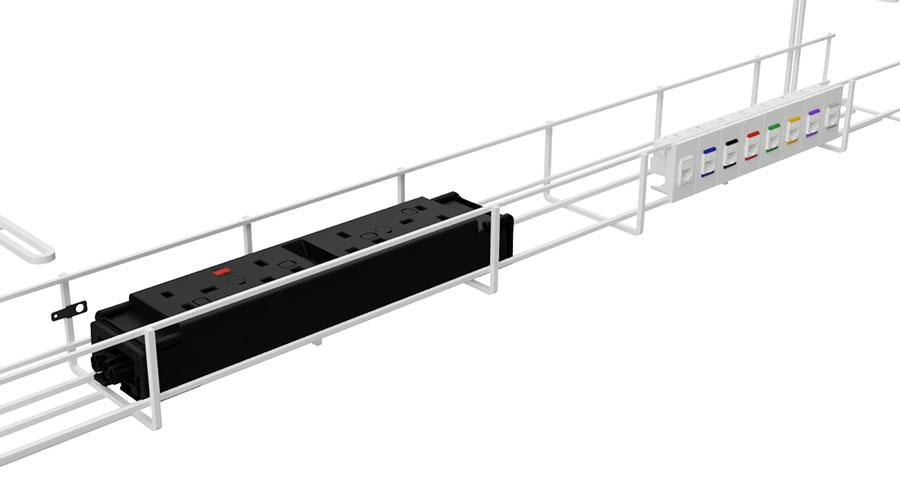 Recommend to a friend
Enter your friend's email address and a short message below and we'll send them an email about this product.
---
Please feel free to message us about this product at any time.
---
Description
The QikTRAY cable basket offers a unique combination of features: speed of installation, strength, versatility, aesthetics and a configurability unlike anything that has been seen before within a cable management system.
The QikTRAY has been designed to allow the QikFit Power, Data and AV components to simply 'click' directly into the face or back of the basket without the need for separate brackets, clips or parts. It is also possible to stack the single tier baskets to create a sturdy multi-tier solution within a matter of seconds.
These features combined with the built-in mounting brackets make the 'QikTRAY' the basket to use if speed of installation is paramount.
The QikTRAY is simply the smartest basket on the market: 'less is so much more'.

QikTRAY DataSheet
Available lengths:
600mm (two mounting points)
900mm (two mounting points)
Stackable: 
Single tier baskets are stackable to create a sturdy double tier system without the use of external brackets within a matter of seconds
Back to back solution: Single tier baskets can be used 'back to back', allowing all the benefits of a double tier basket within minimum height requirements – ideal for 'sit to stand' desks
Speed of installation
Designed to allow the 'QikFit' range of Power, Data and AV products to simply 'click' directly into the face of the wire basket without the need for extra clips, panels or adaptors. All inter-connecting leads and data leads are terminated within the basket itself, saving time on installation. In-built extended mounting arm for easy screw mounting
Versatility
The simple 'click in/click out' installation allows for fast and easy re-configurations or changes that may be required on site
Flexibility & strength
Engineered with a combination of 3mm square wire to allow the flexibility required for Power, Data and AV installation, and 4mm square wire that gives the QikTRAY its unparalleled sturdiness when installed
Cost effective
In-built mounting arm & snap-in functionality = no additional brackets, clips or panels required for installation
Compatible
Compatible with the Pathfinder Umbilical Mounting Bracket for a complete sleek cable management solution
Colours
White only
Installation / Fixings
Dimensions:


Pathfinder Adaptor Bracket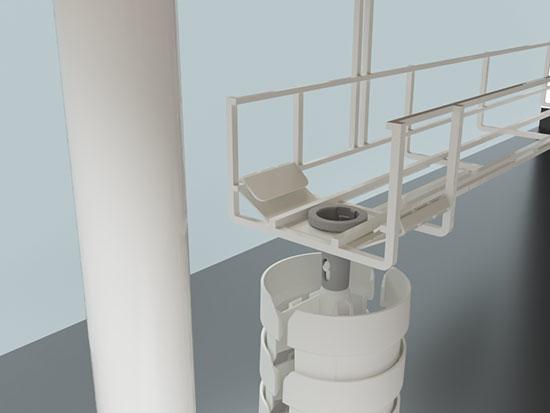 Availability / Ordering / Delivery / Returns
This product is 'made to order', so please note; it cannot be returned for exchange or refund.
Available for delivery throughout the UK, most of Europe, USA and Canada.
UK Standard delivery is 10 - 14 working days with this product via DPD.
UK Express delivery is 7 - 10 working days with this product via DPD.
European and International delivery is subject to different timescales depending on country and location in country.
Again, we must reiterate that this product cannot be exchanged or returned once ordered.
Rental
At the time of publishing, this product is currently not available for rental. Our rental division is constantly adding new products and stock to its rental inventory, so please do feel free to
chat with us
to check the latest situation.
Your payment information is processed securely. We do not store credit card details nor have access to your credit card information.