---
QikFit TUF5A is our most compact solution for providing conveniently located USB fast- charging for mobile phones and tablets and is ideal for installation in steel furniture such as lockers.
---
---
Price Breaks
| Quantity Purchased | Discount |
| --- | --- |
| 25 - 49 | 5% |
| 50 - 99 | 10% |
| 100 + | 15% |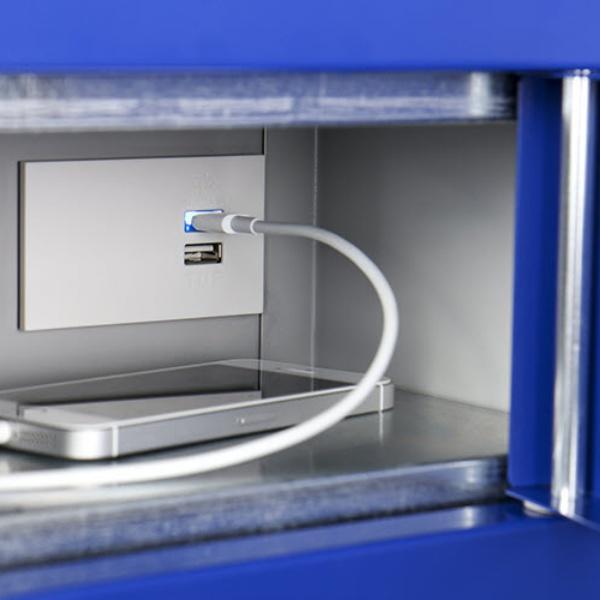 Recommend to a friend
Enter your friend's email address and a short message below and we'll send them an email about this product.
---
Please feel free to message us about this product at any time.
---
Description
Designed specifically for panel mounting, QikFit TUF5A has built in mounting clips for tool-less installation in panels up to 3mm thick and an integral GST18/3 male connector for quick connection of a suitable power supply cord.
Two or more QikFit TUF5A units can be interlinked using either a pre assembled loom (see drawing), or Wieland distribution blocks and then powered from a single OE starter cable to mains AC socket.
QikFit TUF5* keeps pace with rapidly changing USB charging technology by providing both Type A and the latest Type C USB ports, the latter providing up to 3A at 5vDC, with class leading efficiency.
Features
USB Type-A & Type-C ports
Integrated panel mount clips
Safety & EMC certified
Installation / Fixings
There are no further details for installation or fixing of this product.
Availability / Ordering / Delivery / Returns
There are no further specific availability, ordering, delivery, or returns terms applicable to this product. Standard terms apply.
Rental
At the time of publishing, this product is currently not available for rental. Our rental division is constantly adding new products and stock to its rental inventory, so please do feel free to
chat with us
to check the latest situation.
Your payment information is processed securely. We do not store credit card details nor have access to your credit card information.