Pulse
OE Electrics
PULSE 'floats' above the desk releasing the desktop and takes its design influence from modern life - clean, simple lines with no- nonsense understated function and uncompromising style, providing power and / or USB charging. Also available in the OE 8 colours here
Product description, specifications, installation/fitting details, availability, ordering, delivery & returns, and rentals can be found by scrolling down the page.
---
Compact and stylish desk-top unit proving flexible modular power distribution; ideal for desks and screens. 
Looking for something bold and alternative in desk top power module design, then look no further than our top selling PULSE unit.  Moulded in impact resistant and fire retardant ABS, the standard white or black body is complemented by standard grey or black power sockets.
Although majoring on style with its unique "floating" look, Pulse is ideal for large scale international office projects needing a full range of desktop power connectivity.
PULSE can be specified with wide range of OE Electrics modular power sockets including the class leading OE TUF5 Twin USB fast charger. In addition multiple bracket options allow PULSE to be fitted to desk tops, screens, tool/equipment rails and many other locations.
Features
Fire retardant ABS mouldings
Laptop security cable fixing point
Wide range of international power sockets
BS6396 compliant and CE marked

| | |
| --- | --- |
| Construction | PULSE is moulded in fire retardant ABS. |
| Colour/s | Main body – black or white or OE 8 Colours, Socket frame – black or grey, Socket fascia – black or grey |
| Configurations | PULSE's 4 socket apertures may be configured with a combination of the following AC power options from the OE 53mm range or the class leading OE TUF5A:Twin USB Fast charger. 360deg socket access. |
| Fusing / Protection | To facilitate compliance with BS6396 UK sockets are fitted with 5 x 20mm anti-surge ceramic fuses, with colour-coded fuse clips to denote the rating (3.15A/5A) |
| Earth Bonding | UK versions are supplied with a 250mm earth lead with 5mm ring terminal |
| Quality / Testing | All PULSE units are manufactured using ISO9001 quality controlled components and practices and are 100% electronically tested before dispatch – visual configuration and appearance, continuity, polarity, insulation & earth, and the output voltage and resistance if TUF-R (A+C) 5A are fitted. |
| Certifications | AC power socket: The fitted sockets will be certified to the appropriate national/international standard eg: BS1363/5733, IEC60884-1, CCC, AS/NZS3112. OE TUF5A: Independently certified to IEC60950-1/UL60950-1. Cable, connectors & mains plug: Independently certified to the appropriate national/international standard. |
| CE Marking | All units built with UK and European socket types are CE marked by OE Electrics as complying with: Electromagnetic Compatibility Directive 2014/30/EU, Low Voltage Equipment Directive 2014/35/EU RoHS2 Directive 2011/65/EU. |
| Guarantee | One year |
| Input/s | Hardwired to Plug options - UK, European and International power plug options, Wieland GST18 or Neutrik powerCON TRUE1 |
| Output/s | Socket options - UK, European and International power socket options, and/or Twin USB (A+C) 5A Fast charger (replaceable) |
| Cable/s | 1m PVC cable - Black / White options |
| Bracketry | PULSE is supplied as standard with a powder coated steel desk edge bracket (same colour as body) with screw clamps for 5-35mm desk tops and slot for attaching a laptop security cable. Other fixing options include an "extended" clamp bracket for desk tops up to 55mm thick, plus tool/equipment rail brackets. |
| Voltage | The actual voltage of the unit is determined by the plugs and sockets fitted and the location of use. |
| Current | The actual current rating is determined by the plugs and sockets fitted and the location of use. |
| Size / Length | 240mm wide, 61mm high, 78mm deep |
| Weight | 1kg |
PCB – Clamp Bracket
Clamps are available for desk thicknesses between 15mm and 35mm (Call for other desk thicknesses)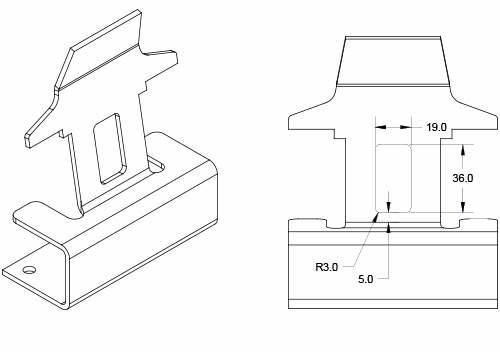 PCB Clamp Bracket 15 – 35mm
PEC Clamp Bracket (Extended) 38-55mm+
PLC Clamp Bracket (Long-Reach) 15-35mm+
+options
This product is 'made to order', so please note; it cannot be returned for exchange or refund.
Available for delivery throughout the UK, most of Europe, USA and Canada.
UK Standard delivery is 10 - 14 working days with this product via DPD.
UK Express delivery is 7 - 10 working days with this product via DPD.
European and International delivery is subject to different timescales depending on country and location in country.
Again, we must reiterate that this product cannot be exchanged or returned once ordered.
This product is currently available to rent in black with 1 x UK 13A socket, 2 x German Schuko sockets and 1 x Twin Fastcharge USB (A+A) charger. With 1m cable fitted with a Schuko Plugtop. Adaptors to UK, and other European and international plugs available. **Please note these rental units are with 2 x USB A, not USB A & USB C.**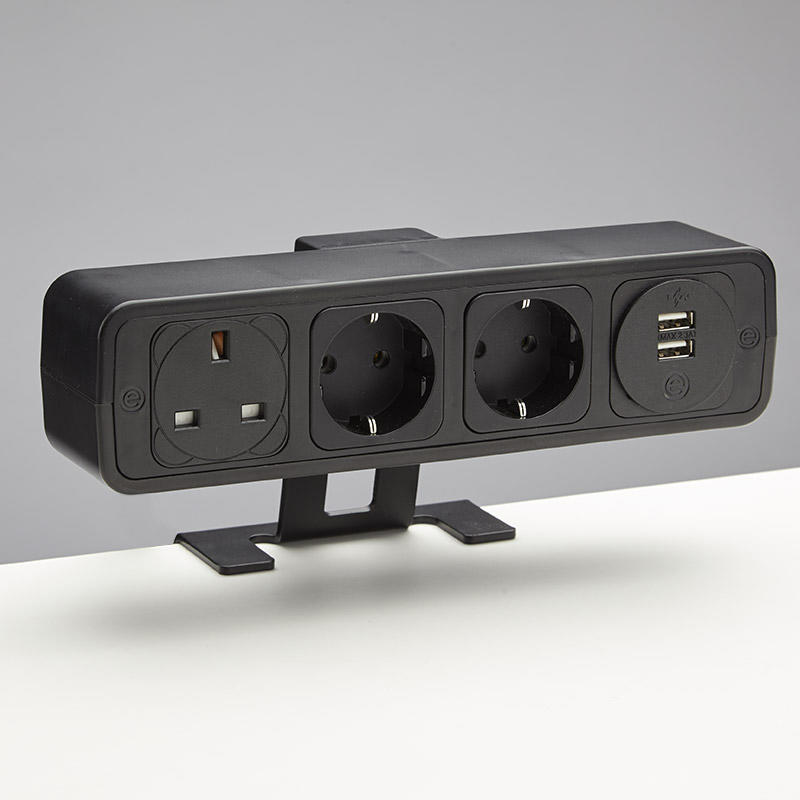 Please contact our rental division at Fulcrum to discuss your requirements; via our message app, email to rentals@fulcrum.uk.com, or call +44 (0)330 330 9901.
The item has been added to your basket