---
Powerbox is the workhorse power solution in the OE product range.  Tough and versatile the compact and strong extruded aluminium body can be configured with the full range of modular power and data/AV sockets and circuit protection devices.
---
---
Price Breaks
| Quantity Purchased | Discount |
| --- | --- |
| 25 - 49 | 5% |
| 50 - 99 | 10% |
| 100 + | 15% |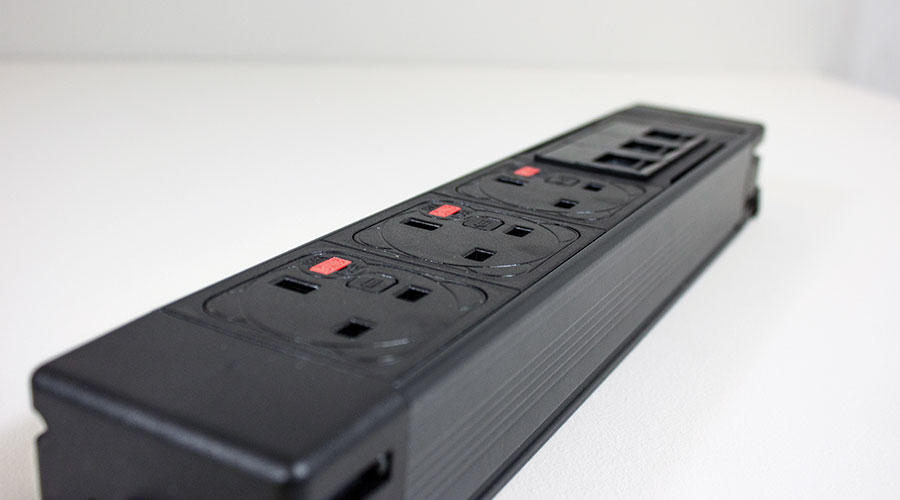 Recommend to a friend
Enter your friend's email address and a short message below and we'll send them an email about this product.
---
Please feel free to message us about this product at any time.
---
Description
POWERBOX can be specified as a power distribution unit with MCBs, RCBOs, filters etc. in order to connect furniture to an underfloor 32A power track and distribute power to multiple furniture power modules. POWERBOX is ideal for under-desk and server room applications; BS5733 certified and is also ETL listed for use in North America.
Standard colour black extrusion with black sockets, fascias and endcaps; POWERBOX has virtually limitless possibilities – please call us to discuss your requirements.

POWERBOX DataSheet
Features
Optional TUF 5A
Numerous standard inlets/outlets
Allows for a wide variety of configurations
BS6396 compliant and CE marked
POWERBOX BENEFITS:
•110V or 230V variations.
•Full use of a 16A 230V circuit, if used with correctly rated cabling.
•Versatile unit which allows a wide variety of configurations in a concentrated space.
•Based on an aluminium extrusion the Powerbox accommodates multiple mains sockets and USB Fast Charging modules to your exact specifications.
•Black extrusion, black sockets, fascias and endcaps as standard. 
•All Powerbox product configurations are manufactured to enable compliance with BS6396 or BS7671 where relevant.
•Large range of international sockets modules available and can be placed in any order or any direction. 
•Socket modules mounted in any direction for horizontal or vertical mount.
•No need for adaptors that are prone to being lost or can only fit in every other socket.
•Large range of plug leads to enable plugging Powerbox into local sockets whichever country you are in. 
•16A CEE plug leads to enable plugging into existing CEE power distribution owned and rented systems 
•Inline or end of line to facilitate link through to the next to minimise cabling and adaptors.
•powerCON TRUE1 cables with plug and socket to link/extend - 1.5mm 3core and 2.5mm 3core cabling available
•Highest build quality and reliability on the integral Twin USB Type-A 5A Fast Charger module. 
•Twin USB Type-A Fast Charge is 5A to facilitate "fast charging" not only the standard mobile devices, but  also other USB powered devices such as cameras, GPS, MP3 players, and PSP vita.
•USB Type-A socket connector is gold plated which means it will last for around 3 times the number of insertions than most others on the market.
•A range of bracketry for total flexibility in placing and fixing the Powerbox anywhere.
•Plug and play – reduce time on site installing and removing
•Plug and play – swap out for another socket combination if the requirement at that outlet position changes.
•Modular linking system + multiple socket combinations – reduce the number and types of options of equipment one needs to have and transport to and from site.
•Well-built and durable – reduce replacement time and costs.
•Reduce your carbon footprint – durable, long lasting, you don't need to replace as often as less robust units, multi-type socket so reduce combinations required.
•More functional, flexible and durable than other designer led socket boxes/panels.
•Lower fusing protection on the 13A socket, if required
•Rackmount version available (for 19" rack, 2U high) – Rackbox.
Installation / Fixings
There are no further details for installation or fixing of this product.
Availability / Ordering / Delivery / Returns
This product is 'made to order', so please note; it cannot be returned for exchange or refund.
Available for delivery throughout the UK, most of Europe, USA and Canada.
UK Standard delivery is 10 - 14 working days with this product via DPD.
UK Express delivery is 7 - 10 working days with this product via DPD.
European and International delivery is subject to different timescales depending on country and location in country.
Again, we must reiterate that this product cannot be exchanged or returned once ordered.
Rental
Also available for rental as the Fulcrum Powerbox6 (2 x UK 13A, 2 x DE 16A Schuko, 1 x US 15A NEMA & Twin USB A Fastcharge, with powerCON TRUE1 connector in) and the Fulcrum Powerbox4 (2 x UK 13A & 2 x DE 16A Schuko, with powerCON TRUE1 connector in), please contact us to discuss your requirements; chat, email rentals@fulcrum.uk.com or call +44 (0)330 330 9901
Your payment information is processed securely. We do not store credit card details nor have access to your credit card information.