---
POWERBAR 2P20 combines two fixed position UK 13A fused sockets (Socket Outlet 1 & 2) with two apertures offering a choice of AC power, USB charging and data/AV sockets from OE's new 42mm modular range (Socket Outlet 3/4). Great additional functionality with traditional POWERBAR reliability and value.
---
---
Price Breaks
| Quantity Purchased | Discount |
| --- | --- |
| 25 - 49 | 5% |
| 50 - 99 | 10% |
| 100 + | 15% |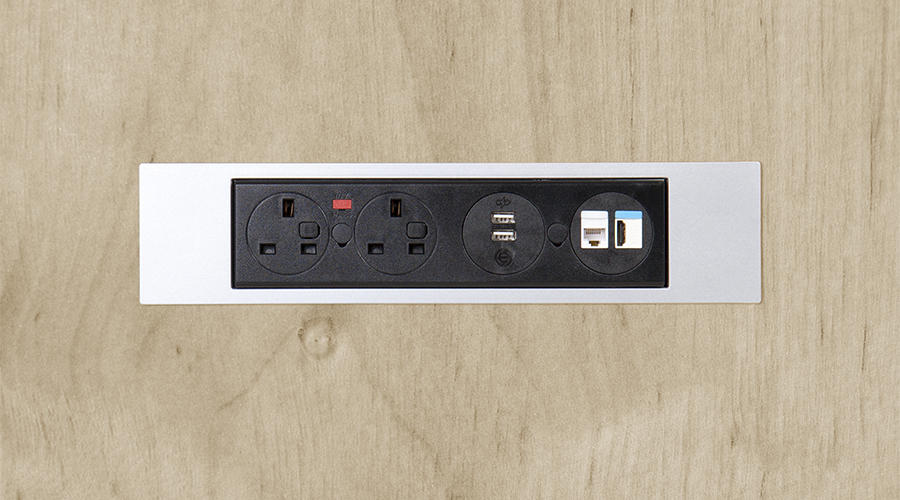 Recommend to a friend
Enter your friend's email address and a short message below and we'll send them an email about this product.
---
Please feel free to message us about this product at any time.
---
Description
POWERBAR 2P20 provides a BS6396 compliant UK fused socket power module at a competitive price point and with the build quality and reliability expected of an OE Electrics product.
The all new POWERBAR 2P20 combines two fixed position UK fused sockets with two apertures that may be configured to order with a choice of AC power, USB charging and data/AV sockets from OE's new 42mm modular range.
Built in GST18/3 male for power in.
Features
Tough fire resistant polycarbonate mouldings
TUF5A & Data/AV options
Optional satin silver screen mounting frame
BS6396 compliant and CE marked as applicable
Through body screw fixings and accessory clips plus the optional new satin silver finish panel mounting frame, enable POWERBAR 2P20 to be fitted in a wide variety of ways to cable trays, screens and other furniture panels.

POWERBAR2P20 DataSheet
AV/Data Sockets
All OE Electrics products are also available with various AudioVisual and/or Data socket outlets. If you require any of these options, please message us about your requirements.
Installation / Fixings
Screen Mounting Frame
The new POWERBAR screen mounting frame is designed to provide a quick and attractive solution for flush mounting PowerBar 70 and 2P20 into workstation screens and other suitable vertical surfaces.
The satin silver paint finish perfectly complements the POWER BAR moulded fascia. The Integral securing clips enable POWERBAR 70 and 2P20 to be mounted into panels 3mm to 15mm thick without the need for screws or other fixings.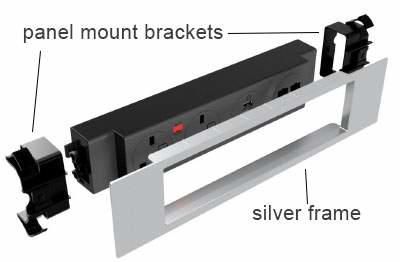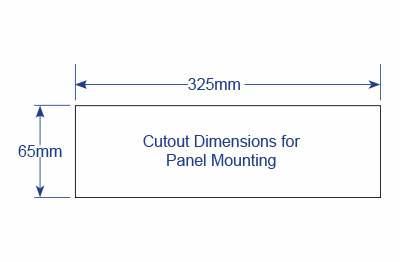 Availability / Ordering / Delivery / Returns
This product is 'made to order', so please note; it cannot be returned for exchange or refund.
Available for delivery throughout the UK, most of Europe, USA and Canada.
UK Standard delivery is 10 - 14 working days with this product via DPD.
UK Express delivery is 7 - 10 working days with this product via DPD.
European and International delivery is subject to different timescales depending on country and location in country.
Again, we must reiterate that this product cannot be exchanged or returned once ordered.
Rental
At the time of publishing, this product is currently not available for rental. Our rental division is constantly adding new products and stock to its rental inventory, so please do feel free to
chat with us
to check the latest situation.
Your payment information is processed securely. We do not store credit card details nor have access to your credit card information.