---
PolarICE rewrites the design rules for desk top power with clip-on moulded front and rear decorative frames and circular socket apertures, perfectly matched to contemporary office furniture.
---
---
Price Breaks
| Quantity Purchased | Discount |
| --- | --- |
| 25 - 49 | 5% |
| 50 - 99 | 10% |
| 100 + | 15% |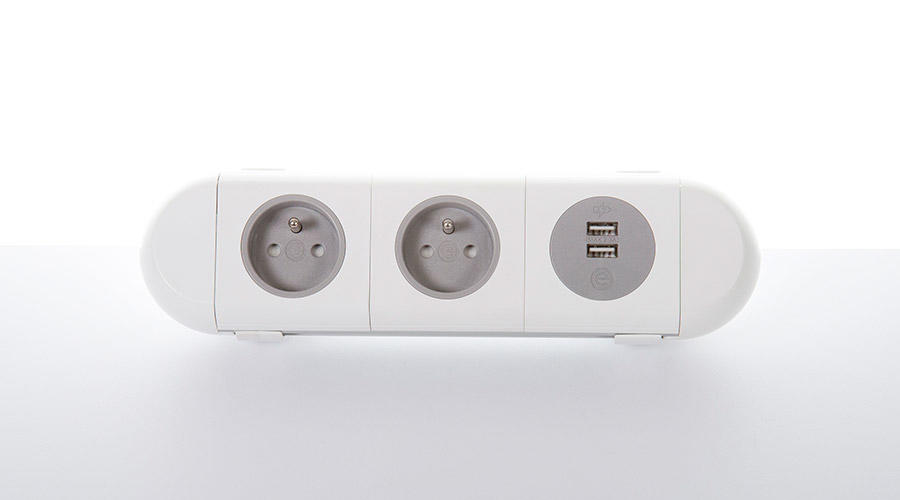 Recommend to a friend
Enter your friend's email address and a short message below and we'll send them an email about this product.
---
Please feel free to message us about this product at any time.
---
Description
polarICE brings power and data connectivity to the desktop in a sleek ice cool package with a unique range of options as to appearance and fitting. Now available with the advanced TUFA+C fast charging socket, in addition to country-specific AC power sockets and Data/AV modules. White or black snap-on fascias and domed end caps, with contrasting grey or black socket fascias, give the unit a distinctive look. 
PolarICE can be neatly fitted to most desks and screens, often without the need for special tools or under desk access.
polarICE has been designed to allow shape customisation, either before or after the unit is installed. As well as snap on snap off frames polarICE can be fitted with rounded or even custom-made end-caps to match the overall workplace scheme.
Features
Distinctive 'organic' design
Optional TUF-R5A
UK designed and manufactured
BS5733, UL962A certified and CE marked
A range of bracket options is available for quick installation of PolarICE on desk tops of varying thickness, and to monitor beams, equipment rails and furniture panels.
Extras:
Polar Extended Clamp Bracket - for desks 25mm-55mm (white clips)
Polar Quick Release Bracket - for desks 13mm-45mm (grey clips)

polarICE DataSheet
Installation / Fixings
Standard fixings
QRB Quick Release Bracket 13 – 45mm
PCC Polar C Clamp Bracket 5-35mm
XCC Extended Clamp Bracket 25 – 55mm
TRA Toolrail/Panel Adaptor*
TRB Tool Rail Bracket*
*Please call to confirm screen/toolrail compatibility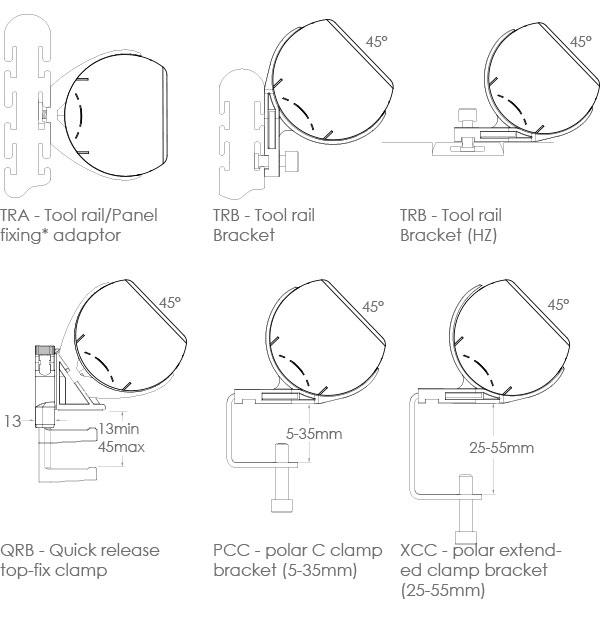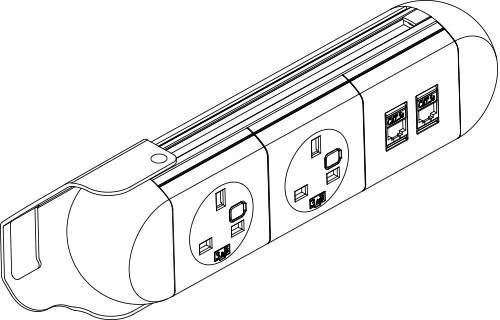 PolarICE is designed to allow brackets to be changed on-site. Unless stated otherwise, PolarICE can simply be moved (using the same bracket)or attached to another feature on the desk simply by changing the bracket.
Availability / Ordering / Delivery / Returns
This product is 'Made to Order', so please note; it cannot be returned for exchange or refund.
Available for delivery throughout the UK, most of Europe, USA and Canada.
UK Standard delivery is 10 - 14 working days with this product via DPD.
UK Express delivery is 7 - 10 working days with this product via DPD.
European and International delivery is subject to different timescales depending on country and location in country.
Again, we must reiterate that this product cannot be exchanged or returned once ordered.
Rental
POLAR ICE is not currently part of our rental stock; if you would like to enquire further about similar products that are available for rental then please call us on +44 (0) 330 330 9901 or email rentals@fulcrum.uk.com
Your payment information is processed securely. We do not store credit card details nor have access to your credit card information.