---
POD has been designed to offer full desk top power data and AV connectivity in a compact yet robust aluminium extrusion based enclosure, ideal for both office and educational applications.
---
---
Price Breaks
| Quantity Purchased | Discount |
| --- | --- |
| 25 - 49 | 5% |
| 50 - 99 | 10% |
| 100 + | 15% |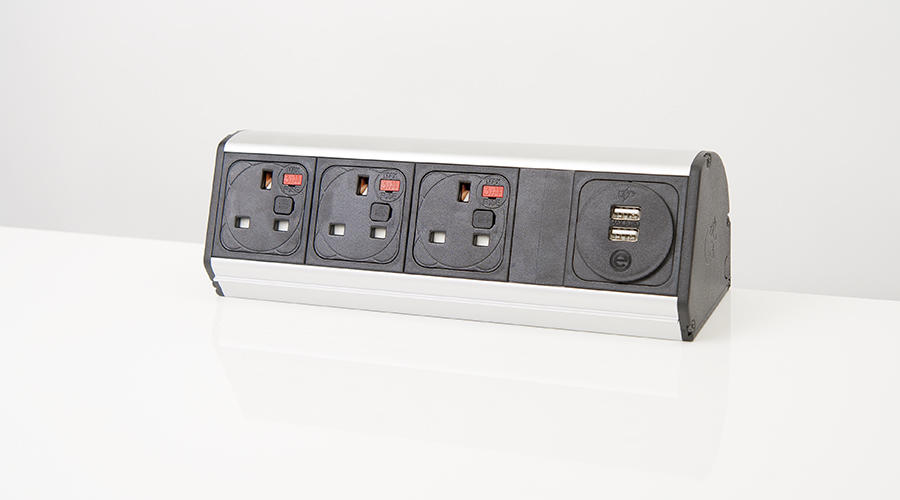 Recommend to a friend
Enter your friend's email address and a short message below and we'll send them an email about this product.
---
Please feel free to message us about this product at any time.
---
Description
A desk top unit designed to provide an aesthetically pleasing yet practical solution for desk top power, data and telecom connections. Particularly suited for hot-desking situations or simply to provide personal desk top power for the general office. POD units can assist with meeting the requirements of the Disability Discrimination Act (DDA) in the workplace by providing facilities accessible to all on the work surface.
POD is configurable in lengths from 110mm to 3meters, with UK and international power sockets, the class leading TUF5 Twin USB Fastcharger and a wide range of Data and AV connectivity options.  Used in conjunction with underdesk units POD provides an excellent value BS6396 compliant solution for power and data connectivity at the workstation.
Features
UK designed and manufactured
Robust aluminium extruded enclosure
Wide range of mounting options
Optional TUF5A
POD is supplied as standard with a silver anodised aluminium body and moulded black socket fascias and end caps, with other colour options available to special order. POD is supplied as standard with a desk edge clamp bracket but can also be ordered with a wide range of alternative mounting solutions.

POD DataSheet
Installation / Fixings
Standard fixings
CBV Vertical Clamp Bracket 13 – 40mm
CBV-E Vertical Clamp Bracket (Extended) 25-55mm
CBH Horizontal Clamp Bracket 20 – 35mm
FTL Stick down fixing (Horizontal)
TFB+ Top Fix Bracket (Horizontal)
EB Eared Bracket (Vertical)*
TRS Tool rail fixing (Vertical)*
RF Rubber feet (Horizontal)
Security Loop Bracket
*Please call to confirm screen/toolrail compatibility
 +TFB fixing is not 'soft' and cannot be changed on-site
Availability / Ordering / Delivery / Returns
This product is 'Made to Order', so please note; it cannot be returned for exchange or refund.
Available for delivery throughout the UK, most of Europe, USA and Canada.
UK Standard delivery is 10 - 14 working days with this product via DPD.
UK Express delivery is 7 - 10 working days with this product via DPD.
European and International delivery is subject to different timescales depending on country and location in country.
Again, we must reiterate that this product cannot be exchanged or returned once ordered.
Rental
At the time of publishing, this product is currently not available for rental. Our rental division is constantly adding new products and stock to its rental inventory, so please do feel free to
chat with us
to check the latest situation.
Your payment information is processed securely. We do not store credit card details nor have access to your credit card information.