---
PLY with its innovative use of birch plywood and laminate, takes the traditional desk top power module in an exciting new design direction.
---
---
Price Breaks
| Quantity Purchased | Discount |
| --- | --- |
| 25 - 49 | 5% |
| 50 - 99 | 10% |
| 100 + | 15% |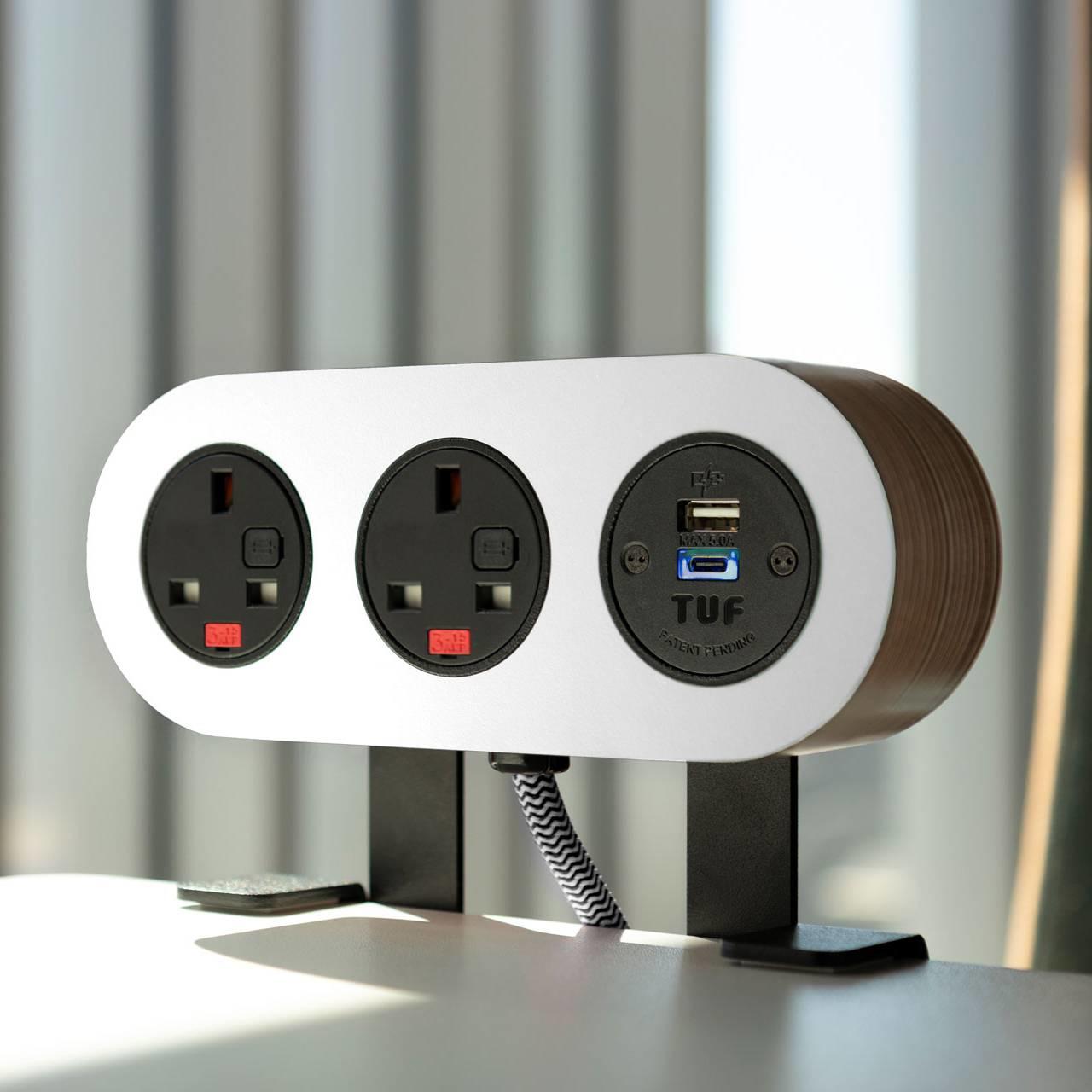 Recommend to a friend
Enter your friend's email address and a short message below and we'll send them an email about this product.
---
Please feel free to message us about this product at any time.
---
Description
PLY offers a choice of either premium "Alpine" white or dark grey matt laminate front trim to contrast or complement the black socket fascias and mounting bracket. As a stylish finishing touch a black & white rayon braided power cord can optionally be specified.
PLY is available in both vertical 2 gang and horizontal 3 gang versions, with a choice of international AC power sockets and the class leading TUF 25W Twin USB Fast Charger. The integral powder coated steel clamp bracket enables desk edge or through desk mounting.
Configuration:
PLY two gang vertical:
– 2 x AC power sockets or
– 1 x AC socket plus TUF A+C
PLY three gang horizontal:
– 3 x AC power sockets, or
– 2 x AC socket plus TUF A+C, or
– 2 x AC socket plus data AV, or
– 1 x AC socket plus TUF A+C plus data/AV
Construction:
Laminate faced Birch Ply body
Polycarbonate socket inserts and fascias
Powder coated steel rear plate and bracket
Colours
White or dark grey laminate front trim.
Black socket inserts and fascias.
Black RAL9005 rear plate and bracket
Socket Fusing:
UK sockets can be fitted with 5 x 20mm anti-surge ceramic fuses, with colour-coded fuse clips to denote the rating (3.15A/5A)
Power cord options:
PLY is fitted with a one metre black PVC power cord to plug. Plug options are UK 13A, 16A EU Schuko, US Nema and other international mains AC types.
Quality and Testing:
All PLY units are manufactured using ISO9001 quality controlled components and practices and are 100% tested before dispatch.
Visual: Configuration and appearance.
Mechanical: correct operation of rotating mechanism.
Power sockets: Continuity, polarity, insulation & earth
USB charger: Output voltage and resistance
CE Marking
All units built with UK and European socket types are CE marked by OE Electrics as complying with:
Electromagnetic Compatibility Directive 2014/30/EU
Low Voltage Equipment Directive 2014/35/EU
RoHS2 Directive 2011/65/EU
Certifications
PLY module – BS5733
AC power sockets and plugs – BS1363, IEC60884 plus appropriate national variations
Wieland connectors – IEC 61535
OE 5A TUF – IEC60950-1
Power Sockets
All OE Electrics products are available with UK 13A Power sockets, Twin USB (A&C) Charging sockets and/or European and International Power sockets. If you have any questions with regard these options, please message us about your requirements.
AV/Data Sockets
All OE Electrics products are also available with various AudioVisual and/or Data socket outlets. If you require any of these options, please message us about your requirements.
Installation / Fixings
PLY is supplied as standard with an integrated steel clamp bracket for through desk or desk edge mounting in desk tops 13mm to 50mm thick.
Horizontal Ply dimensions
Vertical Ply dimensions
Availability / Ordering / Delivery / Returns
This product is 'made to order', so please note; it cannot be returned for exchange or refund. UK Standard delivery is 10 - 14 working days with this product via DPD/TNT.
Rental
At the time of publishing, this product is currently not available for rental. Our rental division is constantly adding new products and stock to its rental inventory, so please do feel free to
chat with us
to check the latest situation.
Your payment information is processed securely. We do not store credit card details nor have access to your credit card information.