Pluto
OE Electrics
The ever popular PLUTO power unit is a smart desktop solution providing 3 outlets for power and USB charging, perfect for shared workstations, meeting areas and coffee tables. No more hiding 4 way blocks, you will want your power supply on show! Available in black or white, satin or gloss. Also available as PLUTO-8 in the OE 8 colours.
Product description, specifications, installation/fitting details, availability, ordering, delivery & returns, and rentals can be found by scrolling down the page.
---
With 3 outlet positions, PLUTO is perfect for a small team to power/charge their devices using conventional mains plugs, with various configurations available. As well as the standard Black and White finishes detailed on this page, Pluto is also available in Red, Green, Yellow, Blue, Orange and Pink; either in satin or gloss finish; as PLUTO-8 - so even your power can be colour coordinated!
PLUTO satisfies the growing need for easily accessible mobile device charging in informal areas, with a unique combination of style and function. Perfectly suited to breakout areas, smaller meeting rooms and coffee tables, in offices, hotels, and other public spaces – PLUTO makes sharing power a pleasure.
Infinitely customisable in appearance;  as well as the perfect colour or pattern to match any interior design scheme, PLUTO can also be screen printed with your own or your customer's brand name or logo. Please enquire for further details.
Features
Optional TUF5A
360° Socket access
UK Designed and Manufactured
International power socket options
BS5733, UL962A/UL1363 certified
CE marked as applicable
PLUTO can be securely clamped to a standard 80mm desk grommet hole, screwed to any suitable surface, or supplied with side entry power cord and rubber feet for free standing use.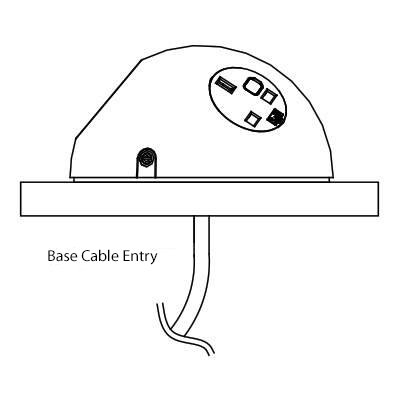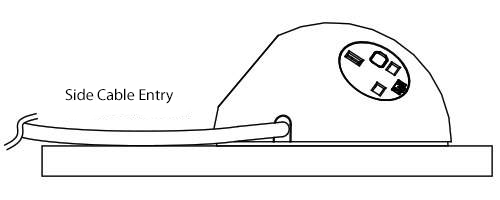 | | |
| --- | --- |
| Construction | High strength 5VA fire retardant "Lexan 943" polycarbonate enclosure. OE "42mm" modular polycarbonate power socket fascia's |
| Finishes | Satin and Gloss options |
| Colour/s | Black, White & 8 Colours available, sockets available in black and grey |
| Configurations | PLUTO's 3 socket apertures may be configured with a combination of the following AC power options from the OE 42mm range or the class leading OE TUF5A:Twin USB Fast charger. 360deg socket access. |
| Fusing / Protection | To enable compliance to BS6396, UK fused sockets are fitted with 5 x 20mm anti-surge ceramic fuses, with colour-coded fuse clips to denote the rating (3.15A/5A). |
| Earth Bonding | A discreet 'easy-connect' 6.3mm spade type earth terminal is fitted as standard in base of unit for the attachment of an external earth bonding lead. |
| Quality / Testing | All PLUTO units are manufactured using ISO9001 quality controlled components and practices and are 100% electronically tested before dispatch – visual configuration and appearance, continuity, polarity, insulation & earth, and the output voltage and resistance if TUF-R (A+C) 5A are fitted. |
| Certifications | AC power socket: The fitted sockets will be certified to the appropriate national/international standard eg: BS1363/5733, IEC60884-1, CCC, AS/NZS3112. OE TUF5A: Independently certified to IEC60950-1/UL60950-1. Cable, connectors & mains plug: Independently certified to the appropriate national/international standard. |
| CE Marking | All units built with UK and European socket types are CE marked by OE Electrics as complying with: Electromagnetic Compatibility Directive 2014/30/EU, Low Voltage Equipment Directive 2014/35/EU RoHS2 Directive 2011/65/EU. |
| Guarantee | One year |
| Input/s | Hardwired to Plug options - UK, European and International power plug options, Wieland GST18 or Neutrik powerCON TRUE1 |
| Output/s | Socket options - UK, European and International power socket options, and/or Twin USB (A+C) 5A Fast charger (replaceable) |
| Cable/s | 1m PVC cable - Black / White options |
| Installation | Base power cord entry PLUTOs are supplied as standard with the "clamp 80" kit for secure mounting to an 80mm grommet hole. For screw fixing Pluto can be ordered with just the bayonet mounting ring. Side power cord entry PLUTOs are fitted with silicone rubber feet. Special brackets can be supplied to order for fitting the side power cord entry PLUTO to tool/equipment rails. |
| Bracketry | 80mm Clamp Kit option |
| Voltage | 100V – 240V : The actual voltage of the unit is determined by the plugs and sockets fitted and the location of use. |
| Current | 16A : The actual current rating is determined by the plugs and sockets fitted and the location of use. |
| Size / Length | 140mm diameter, 72.5mm high |
| Weight | 0.8kg |
PLUTO has been designed from the outset to provide connectivity, in many guises, to suit the environment in which it is required. As a hemispherical dome, PLUTO can be fixed over a 60mm/80mm grommet hole in the furniture to provide a seamless touchdown solution with no visible cables. It has also been designed with a side power cable exit so that it can be used as a very informal, but design led, mobile power outlet that can be moved across the work surface to the user in most need. 
PLUTO mounting adaptor and 80mm grommet fixing
Place mounting ring over 80mm hole
Place 80mm grommet into mounting ring and screw up retaining nut until firmly in place
Dimensions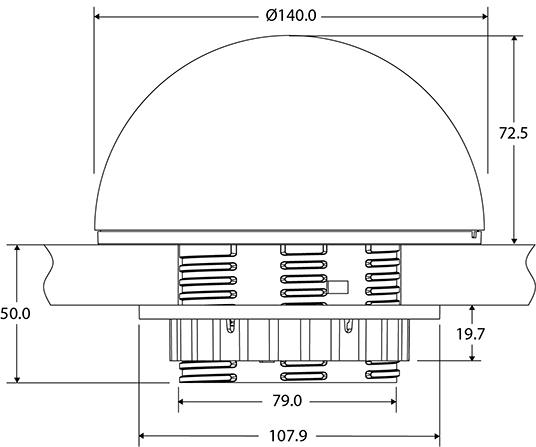 PLUTO mounting adaptor ring - screw fix
Place mounting ring over 50-80mm hole and screw mounting ring in place using suitable screws.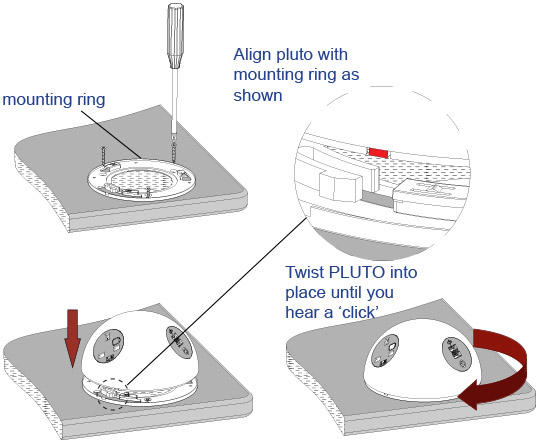 PLUTO Rubber Feet
PLUTO can be supplied with rubber feet. This is only available with power only PLUTOs and where the power exits out the side. The rubber feet option allows the PLUTO to be used a temporary use module, where PLUTO can be put away when not in use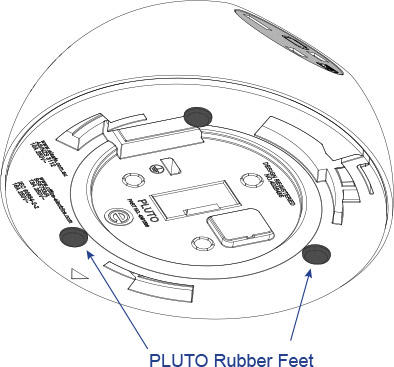 PLUTO post fixing
PLUTO can also be fitted to a free standing post, as shown below; perfect for break out areas and hotel/airport foyers.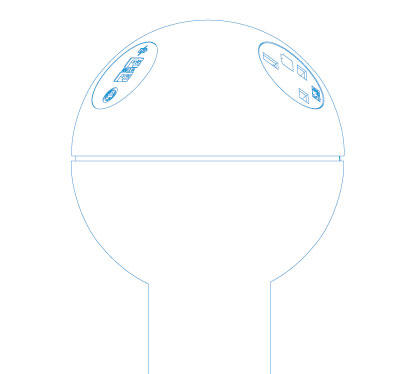 This product is 'made to order', so please note; it cannot be returned for exchange or refund.
Available for delivery throughout the UK, most of Europe, USA and Canada.
UK Standard delivery is 10 - 14 working days with this product via DPD.
UK Express delivery is 7 - 10 working days with this product via DPD.
European and International delivery is subject to different timescales depending on country and location in country.
Again, we must reiterate that this product cannot be exchanged or returned once ordered.
This product is currently available to rent in black and white satin versions with 1 x UK 13A socket, 1 x German Schuko socket and 1 x Twin Fastcharge USB (A+A) charger. With 1m cable fitted with a Schuko Plugtop. Adaptors to UK, and other European and international plugs available. **Please note these rental units are with 2 x USB A, not USB A & USB C.**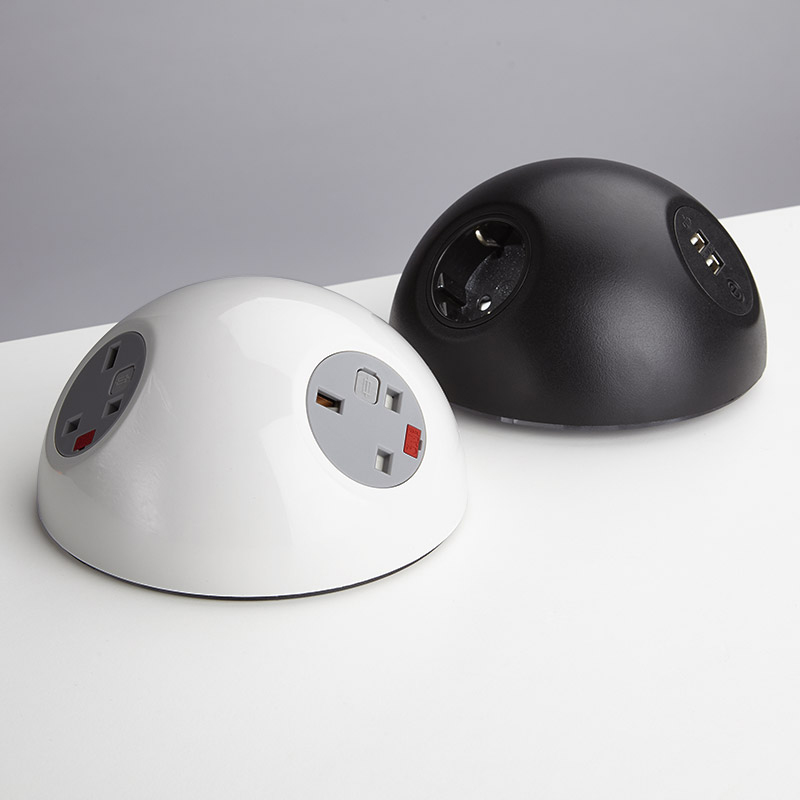 Please contact our rental division at Fulcrum to discuss your requirements; via our message app, email to rentals@fulcrum.uk.com, or call +44 (0)330 330 9901.
The item has been added to your basket