---
PLUTO-8 is a smart desktop unit with 3 outlets for a combination of power sockets and/or USB charging. Configured to your specification and available in a range of colours or a custom design to suit your space. Also available as black or white here
---
---
Price Breaks
| Quantity Purchased | Discount |
| --- | --- |
| 25 - 49 | 5% |
| 50 - 99 | 10% |
| 100 + | 15% |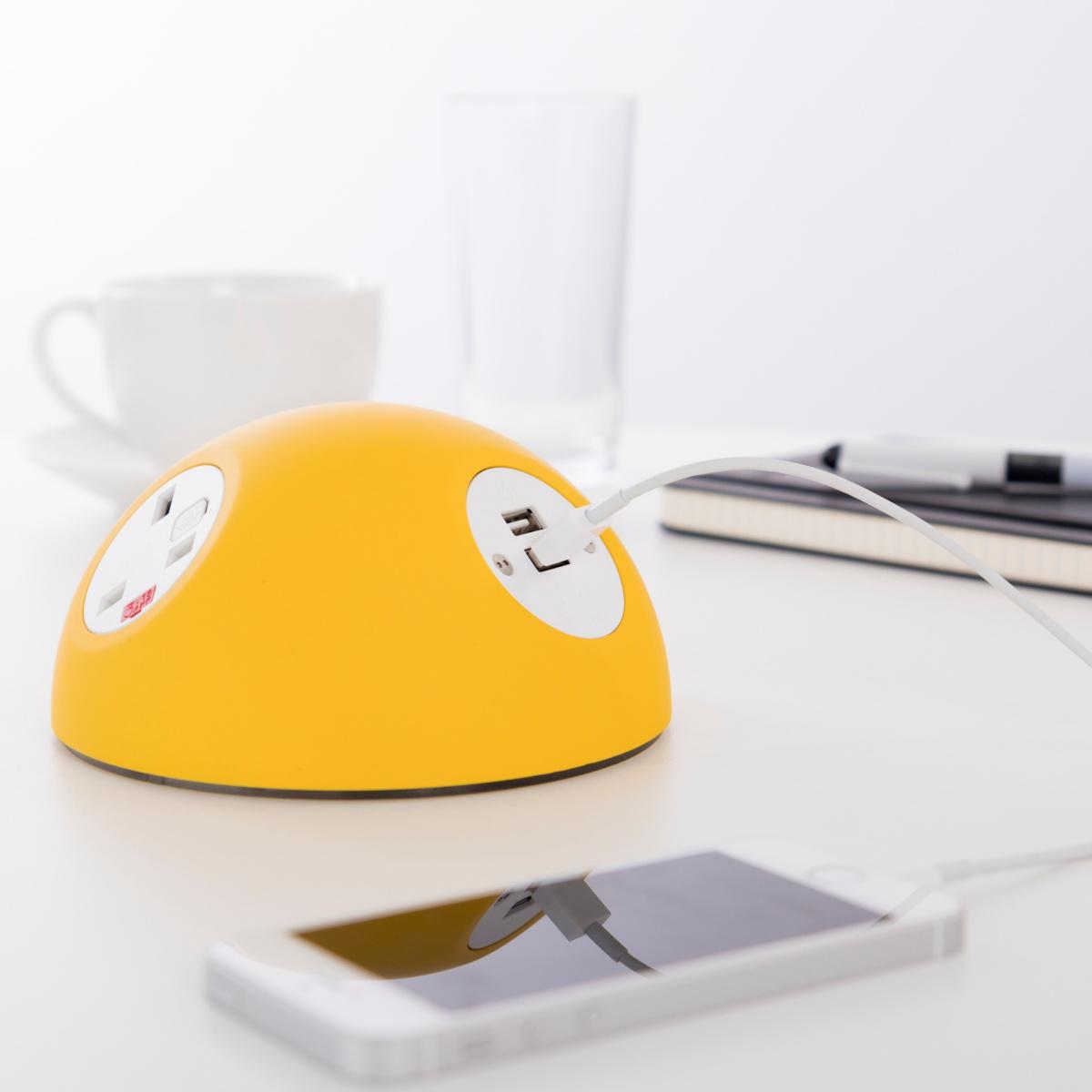 Recommend to a friend
Enter your friend's email address and a short message below and we'll send them an email about this product.
---
Please feel free to message us about this product at any time.
---
Description
The Pluto power unit is a smart desktop solution providing 3 outlets for power and USB charging, perfect for shared workstations, meeting areas and coffee tables. With 3 outlet positions, Pluto is perfect for a small team to charge their devices using conventional mains plugs, with various configurations available. As well as the standard Black and White finishes, Pluto is also available in Red, Light Green, Yellow, Light Blue, Dark Blue, Light Orange, Orange and Pink; either in satin or gloss finish - so even your power can be colour coordinated!
Configuration: Power only / USB charging only / Combined Power & USB charging
PLUTO satisfies the growing need for easily accessible mobile device charging in informal areas, with a unique combination of style and function. Perfectly suited to breakout areas, smaller meeting rooms and coffee tables; in offices, hotels and other public spaces – PLUTO makes sharing power easy and stylish.
Infinitely customisable in appearance PLUTO is available from stock in white, black and 8 vibrant satin colours, with other paint and immersion graphics finishes to special order.  As well as the perfect colour or pattern to match any interior design scheme, PLUTO can be screen printed with your own or your customer's brand name or logo.

PLUTO DataSheet
PLUTO can be securely clamped to a standard 80mm desk grommet hole, screwed to any suitable surface, or supplied with side entry power cord and rubber feet for free standing use.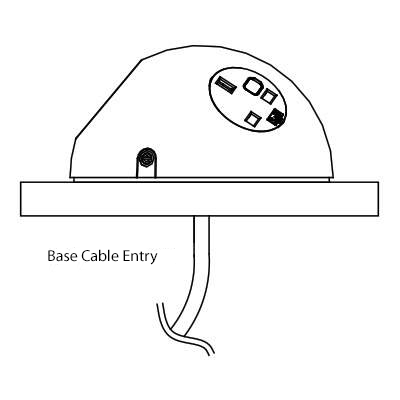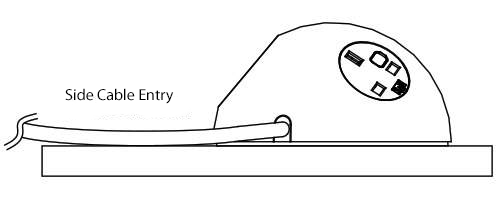 Installation / Fixings
PLUTO has been designed from the outset to provide connectivity, in many guises, to suit the environment in which it is required. As a hemispherical dome, PLUTO can be fixed over a 60mm/80mm grommet hole in the furniture to provide a seamless touchdown solution with no visible cables. It has also been designed with a side power cable exit so that it can be used as a very informal, but design led, mobile power outlet that can be moved across the work surface to the user in most need. 
PLUTO mounting adaptor and 80mm grommet fixing
Place mounting ring over 80mm hole
Place 80mm grommet into mounting ring and screw up retaining nut until firmly in place
Dimensions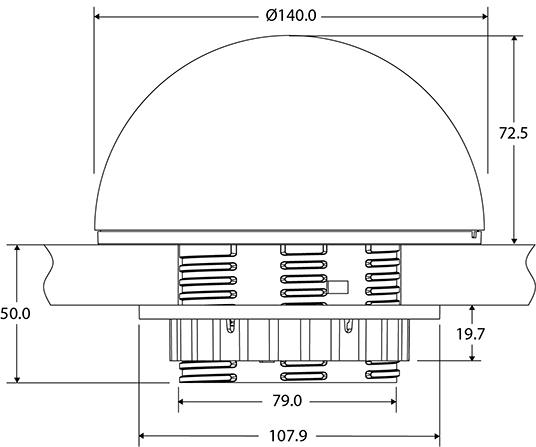 PLUTO mounting adaptor ring - screw fix
Place mounting ring over 50-80mm hole and screw mounting ring in place using suitable screws.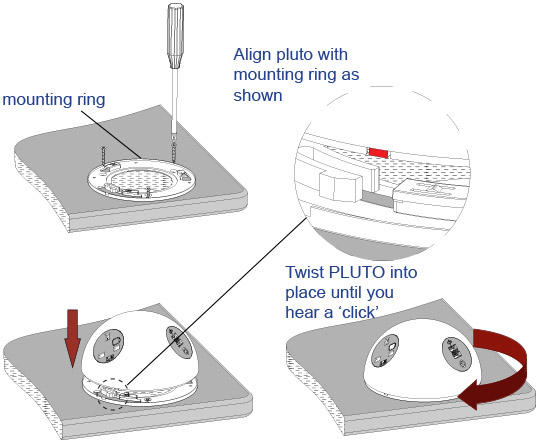 PLUTO Rubber Feet
PLUTO can be supplied with rubber feet. This is only available with power only PLUTOs and where the power exits out the side. The rubber feet option allows the PLUTO to be used a temporary use module, where PLUTO can be put away when not in use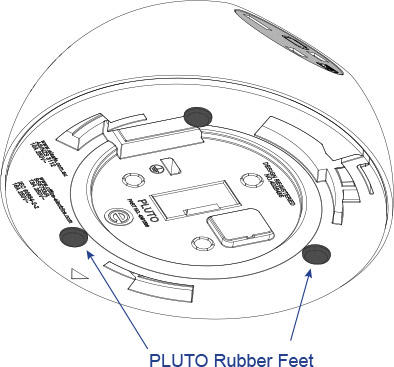 PLUTO post fixing
PLUTO can also be fitted to a free standing post, as shown below; perfect for break out areas and hotel/airport foyers.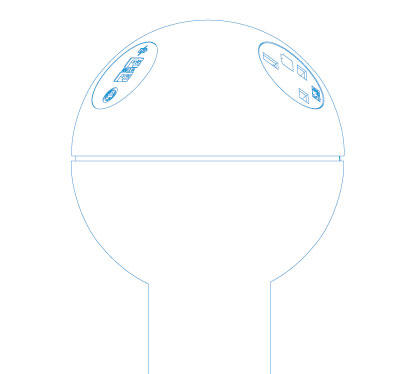 Availability / Ordering / Delivery / Returns
This product is 'Made to Order', so please note; it cannot be returned for exchange or refund.
Available for delivery throughout the UK, most of Europe, USA and Canada.
UK Standard delivery is 10 - 14 working days with this product via DPD.
UK Express delivery is 7 - 10 working days with this product via DPD.
European and International delivery is subject to different timescales depending on country and location in country.
Again, we must reiterate that this product cannot be exchanged or returned once ordered.
Rental
This product is not currently available to rent in coloured versions, but is available in black and white.
Please contact our rental division at Fulcrum to discuss your requirements; via our message app, email to rentals@fulcrum.uk.com, or call +44 (0)330 330 9901.
Your payment information is processed securely. We do not store credit card details nor have access to your credit card information.