---
PLATINUM is a versatile in desk unit fitting flush to the worktop allowing full use of the workspace. Particularly suitable for meeting tables and other locations where space or uncluttered appearance is important.
---
---
Price Breaks
| Quantity Purchased | Discount |
| --- | --- |
| 25 - 49 | 5% |
| 50 - 99 | 10% |
| 100 + | 15% |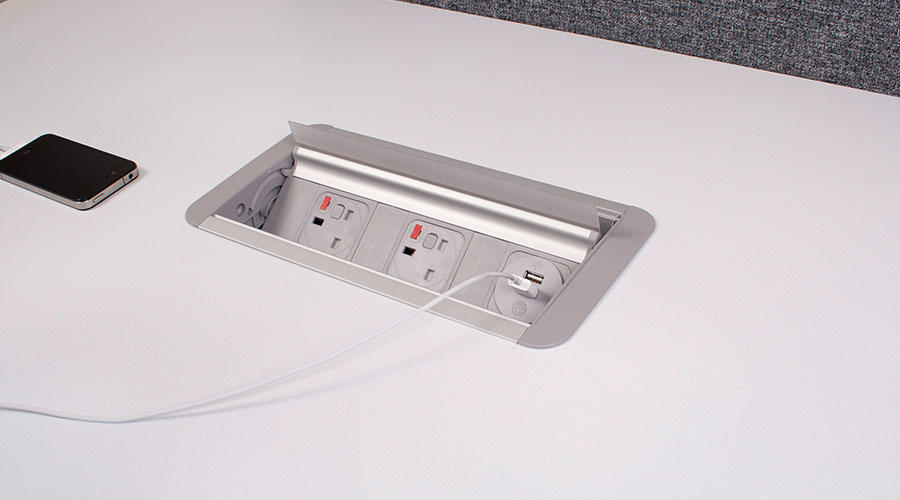 Recommend to a friend
Enter your friend's email address and a short message below and we'll send them an email about this product.
---
Please feel free to message us about this product at any time.
---
Description
PLATINUM allows total flexibility to meet the demands of any power and data requirement. Easy to use, PLATINUM allows essential utility connections to be accessed from both sides of the unit without encroaching on the workspace. The unit can be closed when most connections (including transformer plugs) have been made, to retain a flat work surface.
The ultimate solution for power and data distribution to touch-down desking and conference tables, where ease of access to utilities is paramount. PLATINUM is easily installed into new furniture or retro fitted and may be specified with the full range of data, telecom, audio/visual, OE TUF5  Fastcharger and power sockets. Integral fuses allow compliance to BS6396:2008 where relevant.
Features
Access from both sides in open position
Versatile in-desk unit
Optional TUF 5A
UK & International socket options
Finished in silver and grey as standard. Other finishes available subject to order quantity.

PLATINUM DataSheet
Installation / Fixings
Cutout Dimensions
OE Electrics PLATINUM units may be simply fitted into most worksurfaces.
Cutout dimensions are shown below for the standard sizes of PLATINUM units.
Cut out the aperture in the furniture, then use the ratchet clips provided to fix the PLATINUM in place from below.
PLATINUM units may also be fastened in place using the screw holes provided in the end frame mouldings if the ratchet clips cannot be utilised.
Installation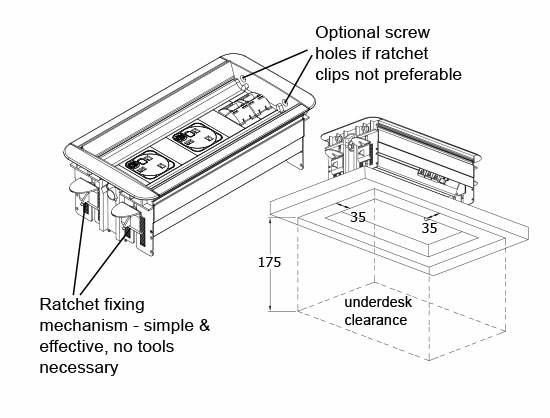 Desk Thickness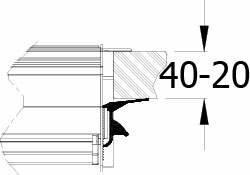 Thinner surfaces can be accommodated for, using rubber pads. Please enquire.
Standard Cutout Dimensions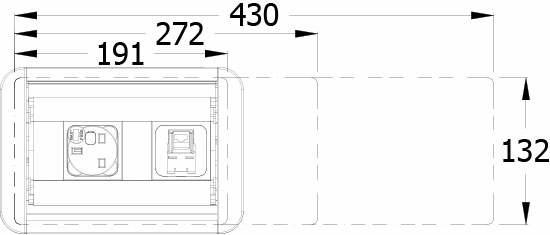 If these fixing methods are not suitable for the application then please call or email for alternative solutions. For non-standard size PLATINUMs please contact OE Electrics technical team for suitable cutout dimensions. PLATINUM may also be mounted in a wall, screen or other types of furniture such as arm chairs and cabinets
Availability / Ordering / Delivery / Returns
This product is 'made to order', so please note; it cannot be returned for exchange or refund.
Available for delivery throughout the UK, most of Europe, USA and Canada.
UK Standard delivery is 10 - 14 working days with this product via DPD.
UK Express delivery is 7 - 10 working days with this product via DPD.
European and International delivery is subject to different timescales depending on country and location in country.
Again, we must reiterate that this product cannot be exchanged or returned once ordered.
Rental
At the time of publishing, this product is currently not available for rental. Our rental division is constantly adding new products and stock to its rental inventory, so please do feel free to
chat with us
to check the latest situation.
Your payment information is processed securely. We do not store credit card details nor have access to your credit card information.