---
Pixel TUF enables the time-short mobile worker to charge a laptop at the same time as charging their mobile phone and tablet! Perfect for hot desks, drop in areas, airports & hotels. Single AC socket with twin apertures for optional data and AV
---
---
Price Breaks
| Quantity Purchased | Discount |
| --- | --- |
| 25 - 49 | 5% |
| 50 - 99 | 10% |
| 100 + | 15% |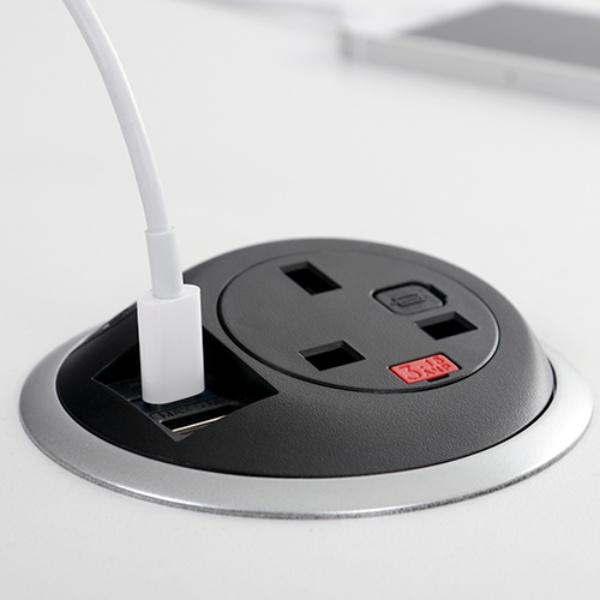 Recommend to a friend
Enter your friend's email address and a short message below and we'll send them an email about this product.
---
Please feel free to message us about this product at any time.
---
Description
Pixel TUF enables the time-short mobile worker to charge a laptop at the same time as charging their mobile phone and tablet! Perfect for hot desks, drop in areas, airports & hotels.
Pixel TUF fits almost flush at any angle into a standard 80mm grommet cut out without the need for tools. You may even forget it's there until you need it.
UK designed and manufactured
Ultra compact integrated design
Mounts into standard 80mm Ø apertures
BS6396 compliant and CE marked*
PixelTUF discreetly presents both mains and 5V USB charging power in an ultra-compact form, meeting the growing need for easily accessible mobile device charging in informal areas. Perfectly suited to breakout areas, smaller meeting rooms and coffee tables, in offices, hotels, and other public spaces – installation of PixelTUF is only limited by the imagination.
PixelTUF can be specified with either UK fused or unfused sockets, plus a wide range of international power socket options.  Fast USB charging of up to two mobile devices is provided via the fully integrated OE TUF5A:Twin USB Fast charger.
PixelTUF  is available from stock in white or black with satin silver grommet ring and alternative decor matching ring colours to special order.

pixelTUF DataSheet
Installation / Fixings
To fit PixelTUF into your desk couldn't be simpler. If your desk already has an industry standard 80mm hole* simply take the fixing nut off your newly purchased PixelTUF, feed the cables through the hole and gently slide your PixelTUF into place. Make sure your PixelTUF is facing the desired orientation and screw the fixing nut back on until it is firmly in place. PixelTUF will fit any surface from 1mm to 40mm. 
Availability / Ordering / Delivery / Returns
This product is 'made to order', so please note; it cannot be returned for exchange or refund.
Available for delivery throughout the UK, most of Europe, USA and Canada.
UK Standard delivery is 10 - 14 working days with this product via DPD.
UK Express delivery is 7 - 10 working days with this product via DPD.
European and International delivery is subject to different timescales depending on country and location in country.
Again, we must reiterate that this product cannot be exchanged or returned once ordered.
Rental
pixelTUF is not currently part of our rental stock; if you would like to enquire further about similar products that are available for rental then please call us on +44 (0) 330 330 9901 or email rentals@fulcrum.uk.com
Your payment information is processed securely. We do not store credit card details nor have access to your credit card information.