---
PETRA is a premium panel mount power and data solution, designed to complement the very best in contemporary office furniture.
---
---
Price Breaks
| Quantity Purchased | Discount |
| --- | --- |
| 25 - 49 | 5% |
| 50 - 99 | 10% |
| 100 + | 15% |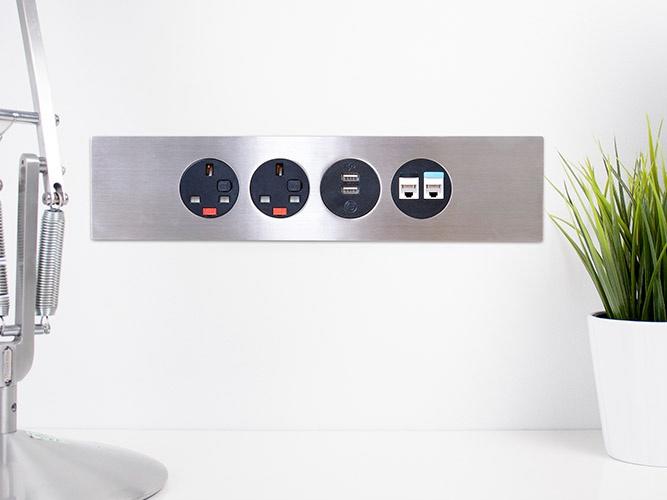 Recommend to a friend
Enter your friend's email address and a short message below and we'll send them an email about this product.
---
Please feel free to message us about this product at any time.
---
Description
PETRA is stylish panel mounted option from the OE Electrics range and is available with a choice of UK and international power outlets and data sockets and, of course, the class leading TUF A+C 5A USB charger.
PETRA clips neatly into the rectangular aperture without the need for tools making it an ideal partner to bench systems or personal power provision. The design highlight of PETRA is the one piece matt white or brushed finish stainless steel socket frame, with contrasting circular black or grey power and data fascias.
Features
2mm Stainless steel fascia
Wide range of power sockets
OE TUF5A & TUF-R options
Built in mounting clips
PETRA's built in mounting clips allow fast on site or factory screwless installation into screens from 5mm to 15mm thick.

PETRA DataSheet
Installation / Fixings
Cutout dimensions:

Availability / Ordering / Delivery / Returns
This product is 'made to order', so please note; it cannot be returned for exchange or refund.
Available for delivery throughout the UK, most of Europe, USA and Canada.
UK Standard delivery is 10 - 14 working days with this product via DPD.
UK Express delivery is 7 - 10 working days with this product via DPD.
European and International delivery is subject to different timescales depending on country and location in country.
Again, we must reiterate that this product cannot be exchanged or returned once ordered.
Rental
PETRA is not currently part of our rental stock; if you would like to enquire further about similar products that are available for rental then please call us on +44 (0) 330 330 9901 or email rentals@fulcrum.uk.com
Your payment information is processed securely. We do not store credit card details nor have access to your credit card information.