---
The PEARL desk top power and data unit with its white body, end caps and socket fascias, perfectly complements the contemporary all white office desk.
---
---
Price Breaks
| Quantity Purchased | Discount |
| --- | --- |
| 25 - 49 | 5% |
| 50 - 99 | 10% |
| 100 + | 15% |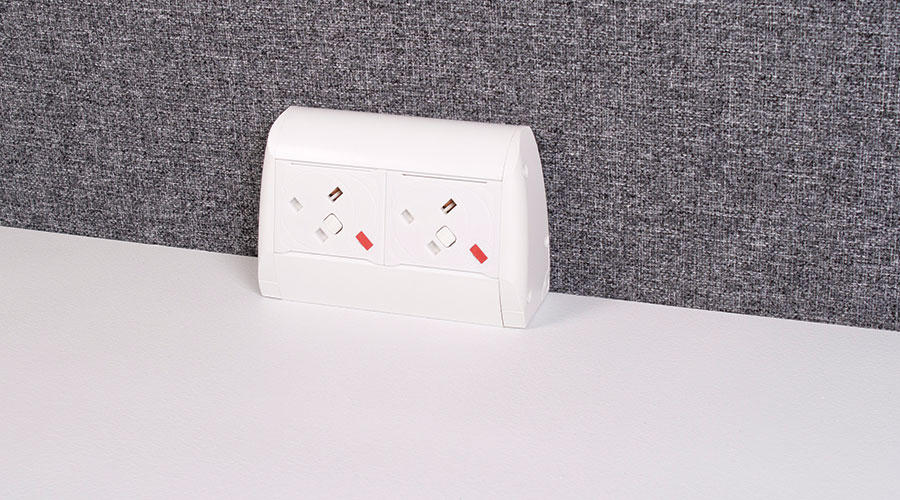 Recommend to a friend
Enter your friend's email address and a short message below and we'll send them an email about this product.
---
Please feel free to message us about this product at any time.
---
Description
PEARL has been introduced in response to the changing needs of the commercial office environment. With white endcaps and socket fascias** in a white body, PEARL reflects the predominant colour scheme of contemporary furniture - silver/grey frame with white work surfaces. PEARL, like the full range of OE Electrics products, has been designed to allow soft power cabling, soft data cabling and soft fixing onsite.
Features
Uses minimal desk space
Optional TUF 5A
Various fitting options
BS6396 compliant and CE marked
PEARL offers a high level of functionality as well as style and can be configured with your choice of international power sockets, the class leading OE Electrics TUF5A USB charger and a wide range of data and AV keystone sockets with optional cables.
PEARL's slim extruded aluminium profile takes up minimal desk space when desk top mounted and PEARL can also be fitted to a screen or tool rail, PEARL is the perfect way to achieve compliance with the requirements of the Electricity at Work Act through compliance with BS6396 – whilst complementing the modern workspace.

** UK socket power sockets only, other power socket types may have grey fascias.

PEARL DataSheet
Installation / Fixings
Standard fixings
CBV Vertical Clamp Bracket 13 – 40mm
CBV-E Vertical Clamp Bracket (Extended) 25-55mm
CBH Horizontal Clamp Bracket 20 – 35mm
FTL Stick down fixing (Horizontal)
TFB+ Top Fix Bracket (Horizontal)
EB Eared Bracket (Vertical)*
TRS Tool rail fixing (Vertical)*
RF Rubber feet (Horizontal)
Security Loop Bracket
*Please call to confirm screen/toolrail compatibility
 +TFB fixing is not 'soft' and cannot be changed on-site
Availability / Ordering / Delivery / Returns
This product is 'Made to Order', so please note; it cannot be returned for exchange or refund.
Available for delivery throughout the UK, most of Europe, USA and Canada.
UK Standard delivery is 10 - 14 working days with this product via DPD.
UK Express delivery is 7 - 10 working days with this product via DPD.
European and International delivery is subject to different timescales depending on country and location in country.
Again, we must reiterate that this product cannot be exchanged or returned once ordered.
Rental
At the time of publishing, this product is currently not available for rental. Our rental division is constantly adding new products and stock to its rental inventory, so please do feel free to
chat with us
to check the latest situation.
Your payment information is processed securely. We do not store credit card details nor have access to your credit card information.