---
PEAK with its eye-catching "floating surface" design, is an elegant new approach for providing power and charging in meeting tables.
---
---
Price Breaks
| Quantity Purchased | Discount |
| --- | --- |
| 25 - 49 | 5% |
| 50 - 99 | 10% |
| 100 + | 15% |
Recommend to a friend
Enter your friend's email address and a short message below and we'll send them an email about this product.
---
Please feel free to message us about this product at any time.
---
Description
Choose PEAK in classic brushed stainless steel with black or grey sockets, or in matt white with black or grey sockets for a more contemporary look.
Low profile and available with either 6 or 8 sockets, PEAK can be configured with a wide range of International power sockets and the class leading OE TUF5 Twin USB Fastcharger.
The combination of subtle design features and well manufactured parts allows PEAK to 'hover' on the table surface. Made from extruded aluminium, with PC-ABS socket fascias and finished with a stainless steel or powder coated matt white steel faceplate, PEAK has the look of elegance, and is made to last.
Features
Sleek spill-proof profile
Optional TUF 5A
UK & International socket options
50mm Mounting depth
Despite a low visual profile requires only 50mm mounting depth. Four supplied M8 screw clamps are then all that is needed to fix Peak securely in place.

PEAK DataSheet
Installation / Fixings
PEAK 60 is designed to fit into a 192mm x 132mm cut-out, while PEAK 80 fits a 272mm x 132mm cut-out (corners of cut-outs must not be radiused).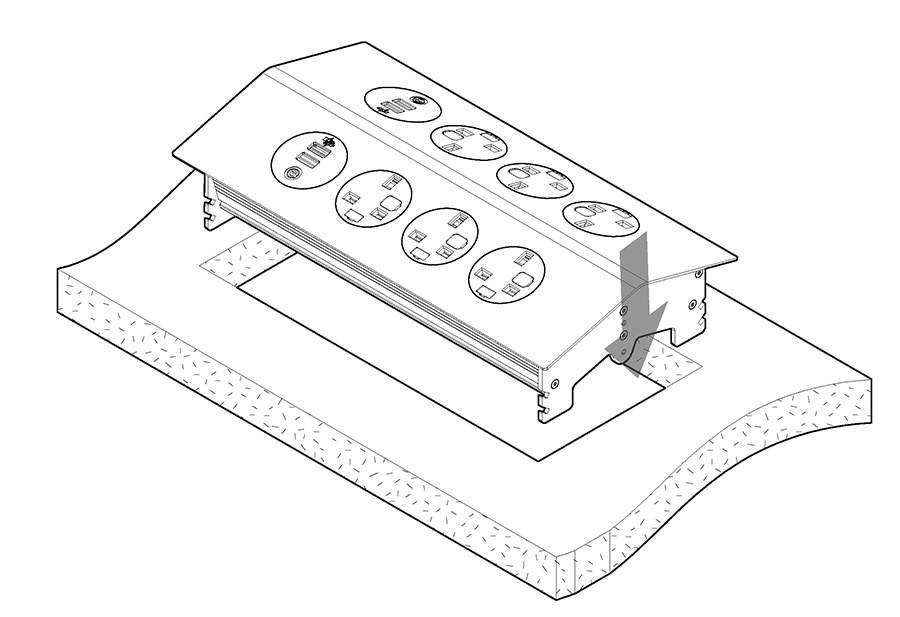 Place PEAK into the 132mm x 272mm cutout ensuring that any cables are not trapped in the process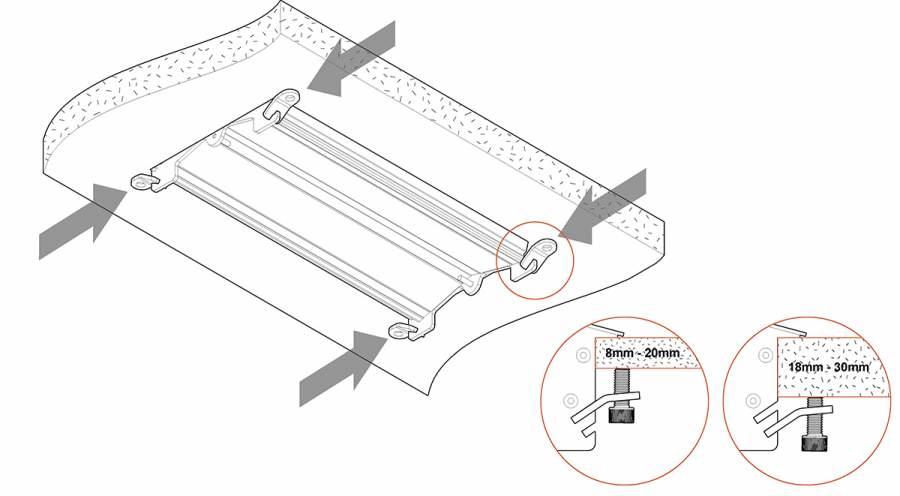 Insert the fixing mounts into the slots on the unit. There are two slots to accommodate varying desk thicknesses. The upper fixing feature (A) is suitable for surfaces 8 – 20mm thick, and lower fixing feature (B) is suitable for surfaces 18-30mm thick.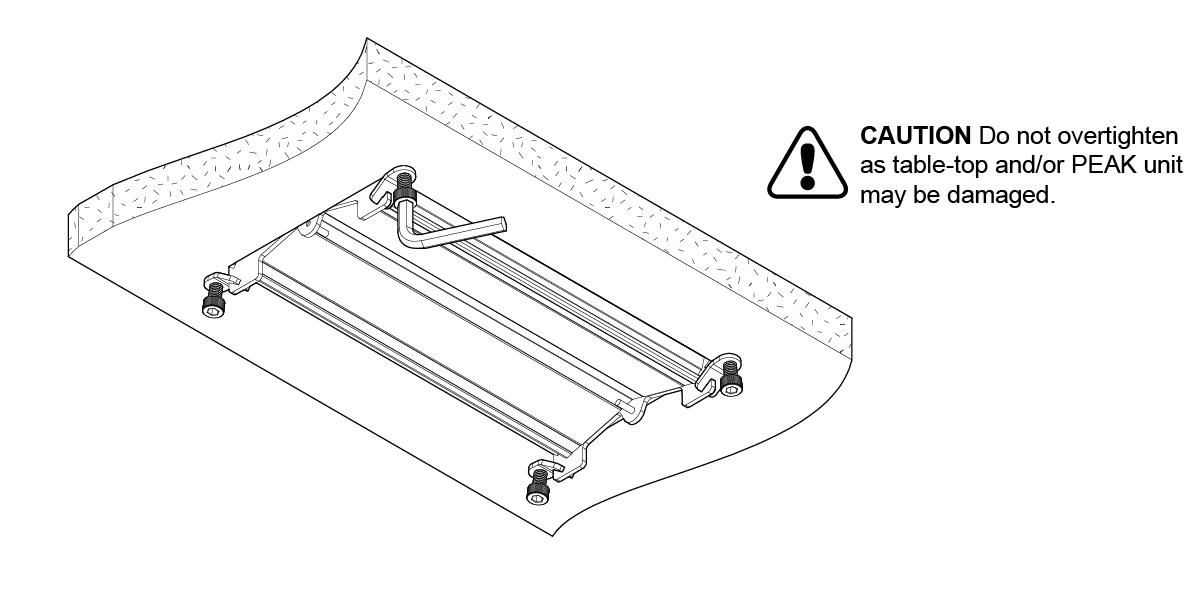 Screw the provided M8 x 20mm cap head fixing bolts through the fixing mounts until the unit is secure.
Ensure that your cables are suitably managed – Solutions are available from us.
Availability / Ordering / Delivery / Returns
This product is 'made to order', so please note; it cannot be returned for exchange or refund.
Available for delivery throughout the UK, most of Europe, USA and Canada.
UK Standard delivery is 10 - 14 working days with this product via DPD.
UK Express delivery is 7 - 10 working days with this product via DPD.
European and International delivery is subject to different timescales depending on country and location in country.
Again, we must reiterate that this product cannot be exchanged or returned once ordered.
Rental
At the time of publishing, this product is currently not available for rental. Our rental division is constantly adding new products and stock to its rental inventory, so please do feel free to
chat with us
to check the latest situation.
Your payment information is processed securely. We do not store credit card details nor have access to your credit card information.