Pathfinder Floor Grommet PUSH
---
(128mm cutout) Dark Grey PUSH
Pathfnder foor grommet enables total cable protection from desk to underfoor, when used in conjunction with Pathfnder. Designed to be quick-ft into industry standard 125mm - 128mm cutouts, the pathfnder grommet can also be used as a conventional foor pass-through allowing power / data cabling, including 16mm fexible conduit, to exit via the Side Lids.
---
---
Price Breaks
| Quantity Purchased | Discount |
| --- | --- |
| 25 - 49 | 5% |
| 50 - 99 | 10% |
| 100 + | 15% |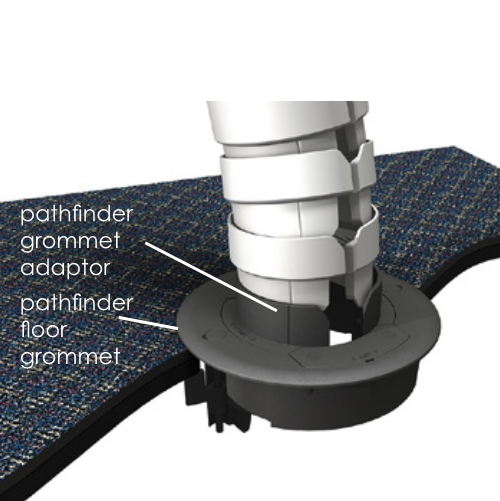 Recommend to a friend
Enter your friend's email address and a short message below and we'll send them an email about this product.
---
Please feel free to message us about this product at any time.
---
Installation / Fixings
There are no further details for installation or fixing of this product.
Availability / Ordering / Delivery / Returns
There are no further specific availability, ordering, delivery, or returns terms applicable to this product. Standard terms apply.
Rental
At the time of publishing, this product is currently not available for rental. Our rental division is constantly adding new products and stock to its rental inventory, so please do feel free to
chat with us
to check the latest situation.
Your payment information is processed securely. We do not store credit card details nor have access to your credit card information.