---
PATHFINDER offers a unique and innovative system for cable management wherever it's needed, keep your cables tidy and safely out of the way.
---
---
Price Breaks
| Quantity Purchased | Discount |
| --- | --- |
| 25 - 49 | 5% |
| 50 - 99 | 10% |
| 100 + | 15% |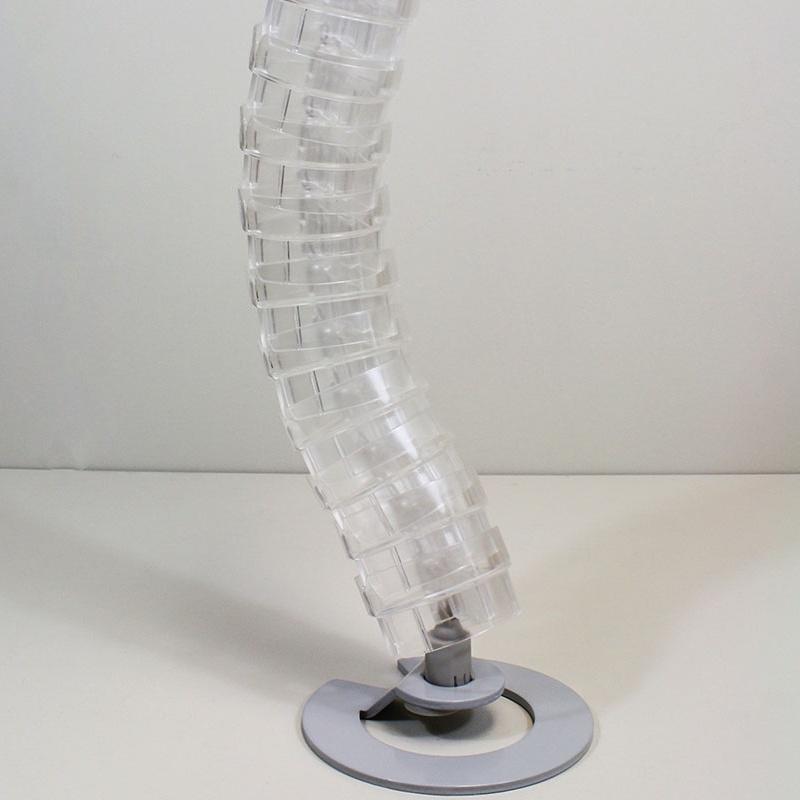 Recommend to a friend
Enter your friend's email address and a short message below and we'll send them an email about this product.
---
Please feel free to message us about this product at any time.
---
Description
The Pathfinder system from OE Electrics has been designed from 25 years experience in supplying cable management products, to offer a complete floor to desk, floor to ceiling, or ceiling to desk, vertical cable management solution.
PATHFINDER Floor Grommet is the first of its kind to enable total cable protection from desk to underfloor, when used in conjunction with Pathfinder Umbilical.
Designed to fit easily into industry standard 5 inch / 125-128mm cutouts, the PATHFINDER Floor Grommet can be used as a conventional floor pass-through; allowing power / data cabling, including 16mm flexible conduit, to exit via the Side Lids.
If used in conjunction with PATHFINDER Umbilical, using PATHFINDER Grommet Adaptor, it can even accommodate multiple 20mm / 25mm data conduits as well.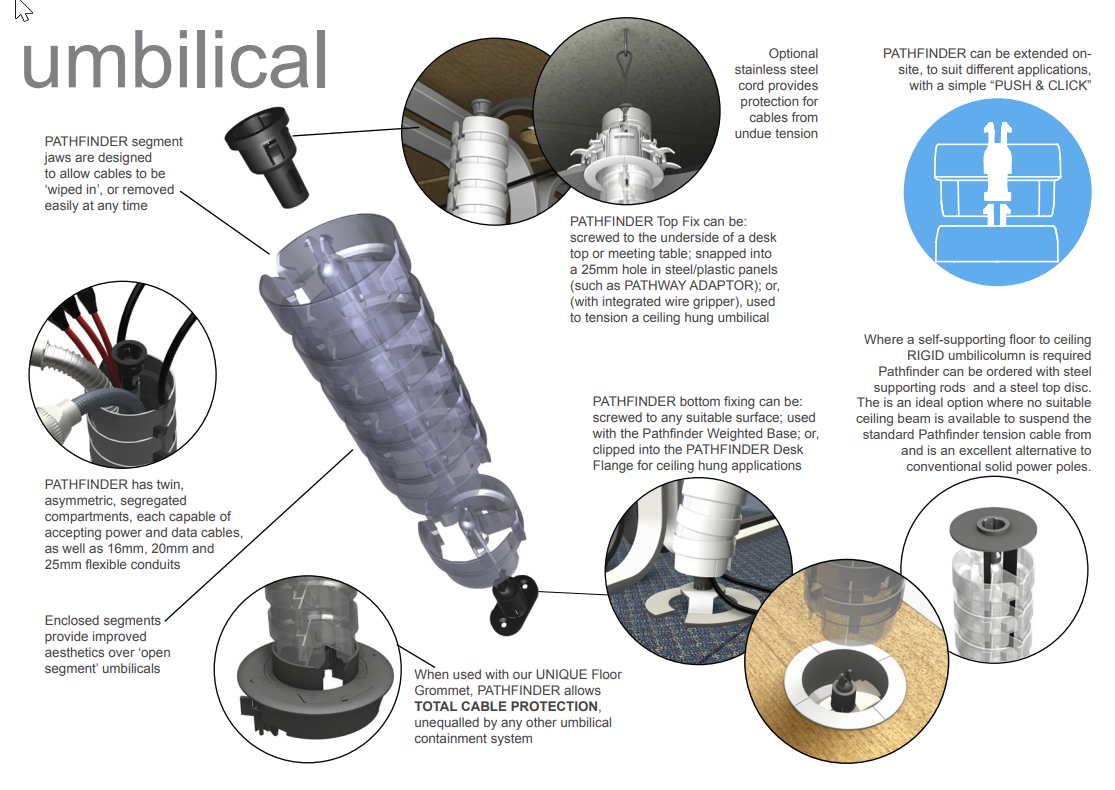 ---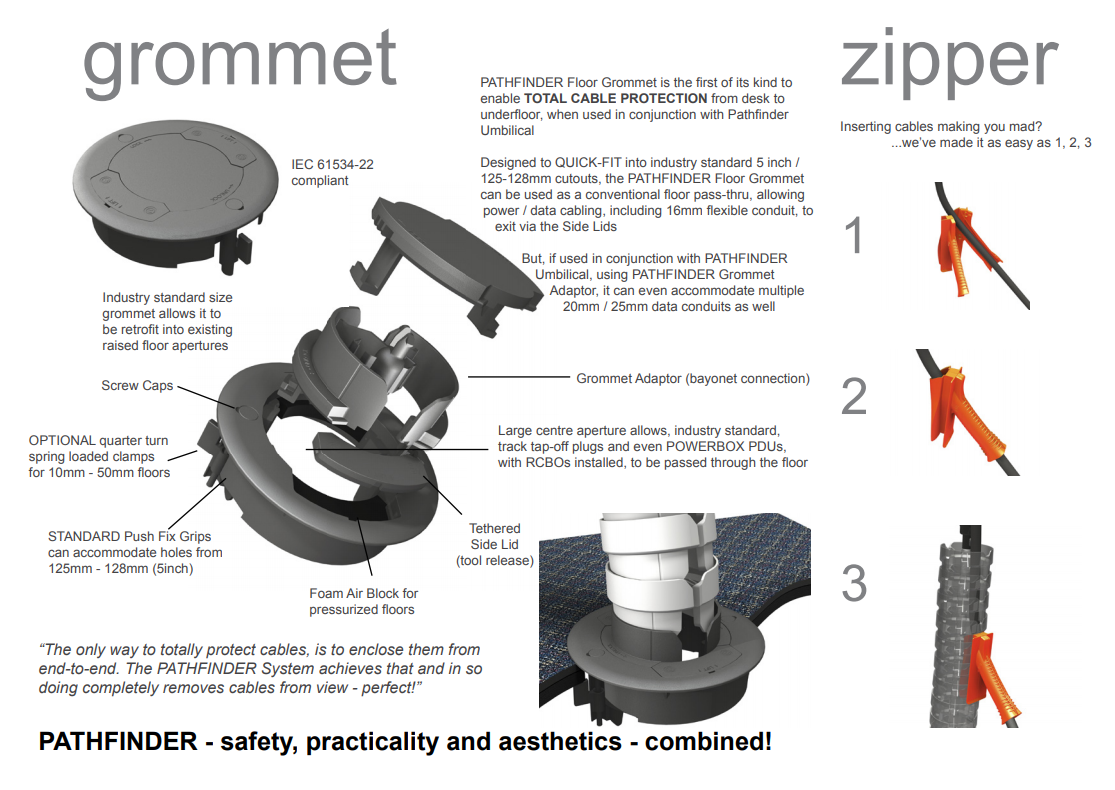 ---
---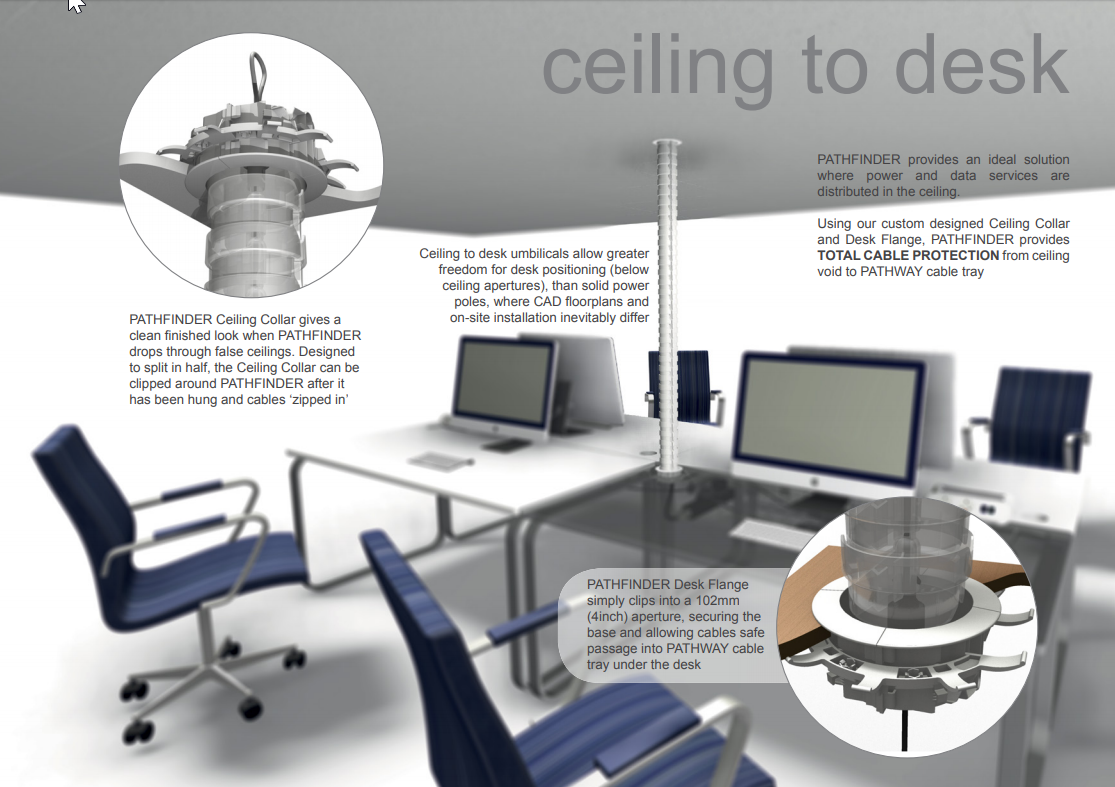 ---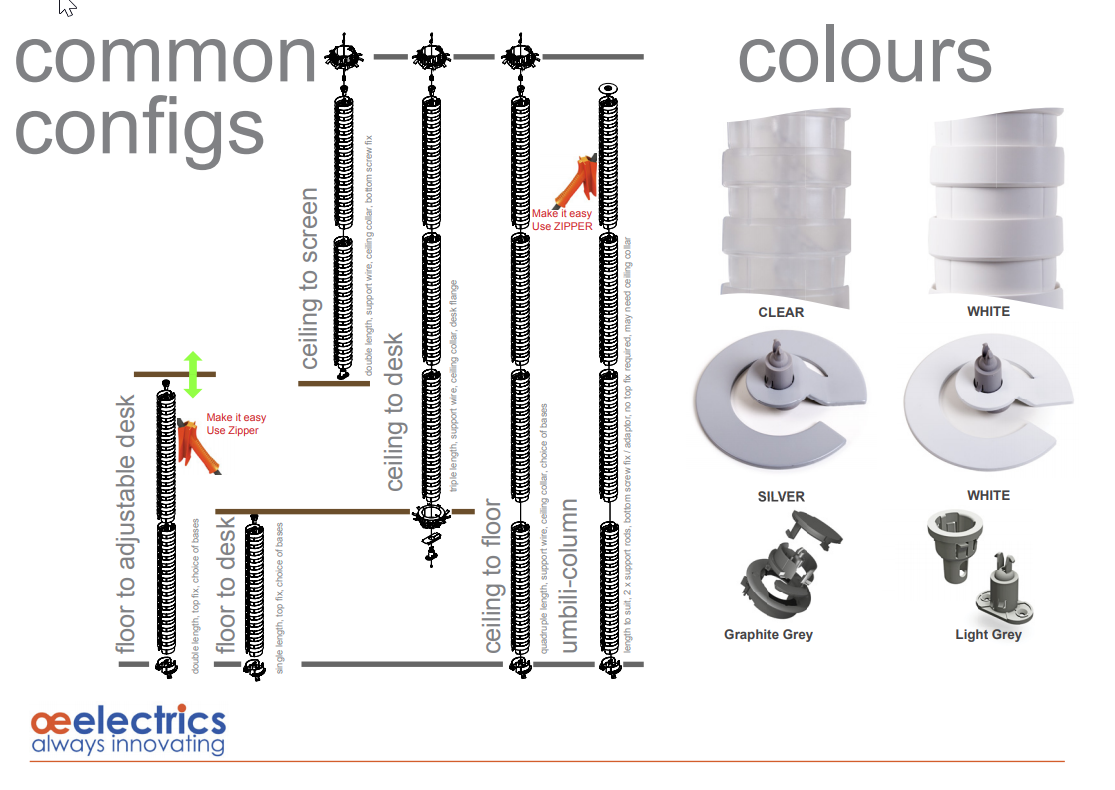 PATHFINDER features include :
• A unique Pathfinder grommet for feeding under floor cables directly into the umbilical
• Extendable sections to allow fixed desk, height adjustable desk or ceiling termination
• A wide range of floor, desk and ceiling fixing options to provide complete management of cables
• Internal segregation for power and data cables to comply with BS regulations
• Flexible umbilical in white or clear polycarbonate
Combine PATHFINDER with Pathway cable tray for optimum cable management
Installation / Fixings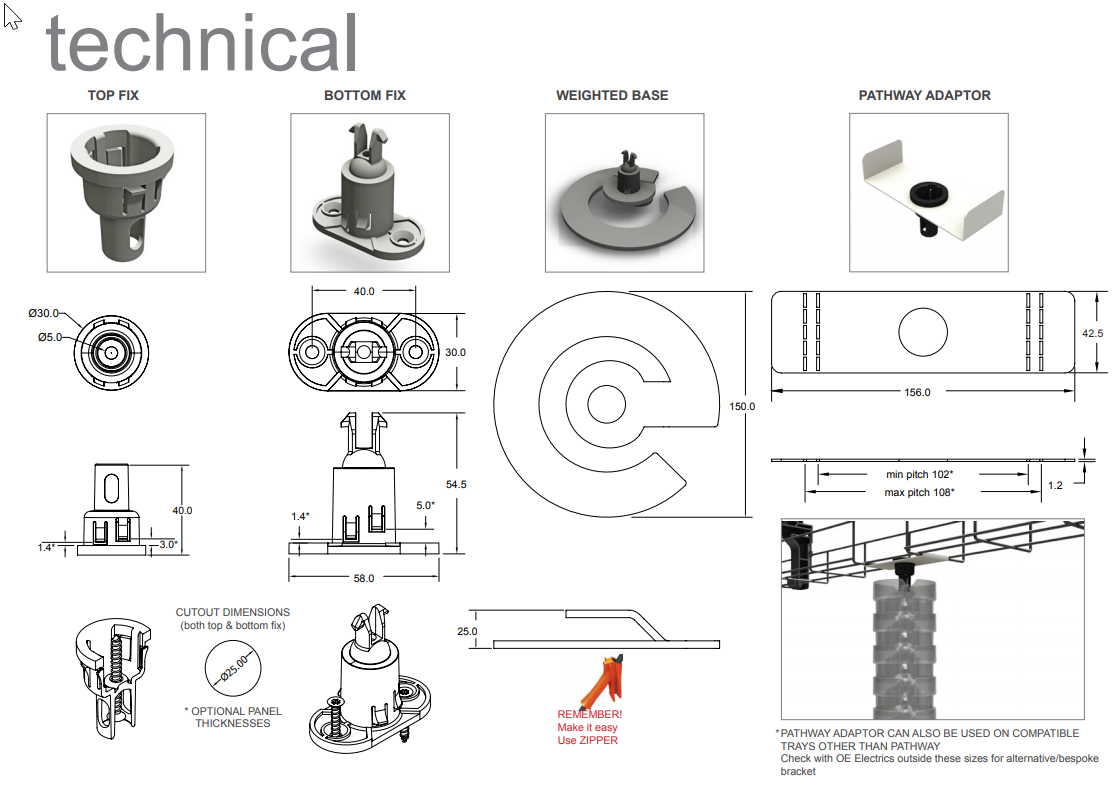 ---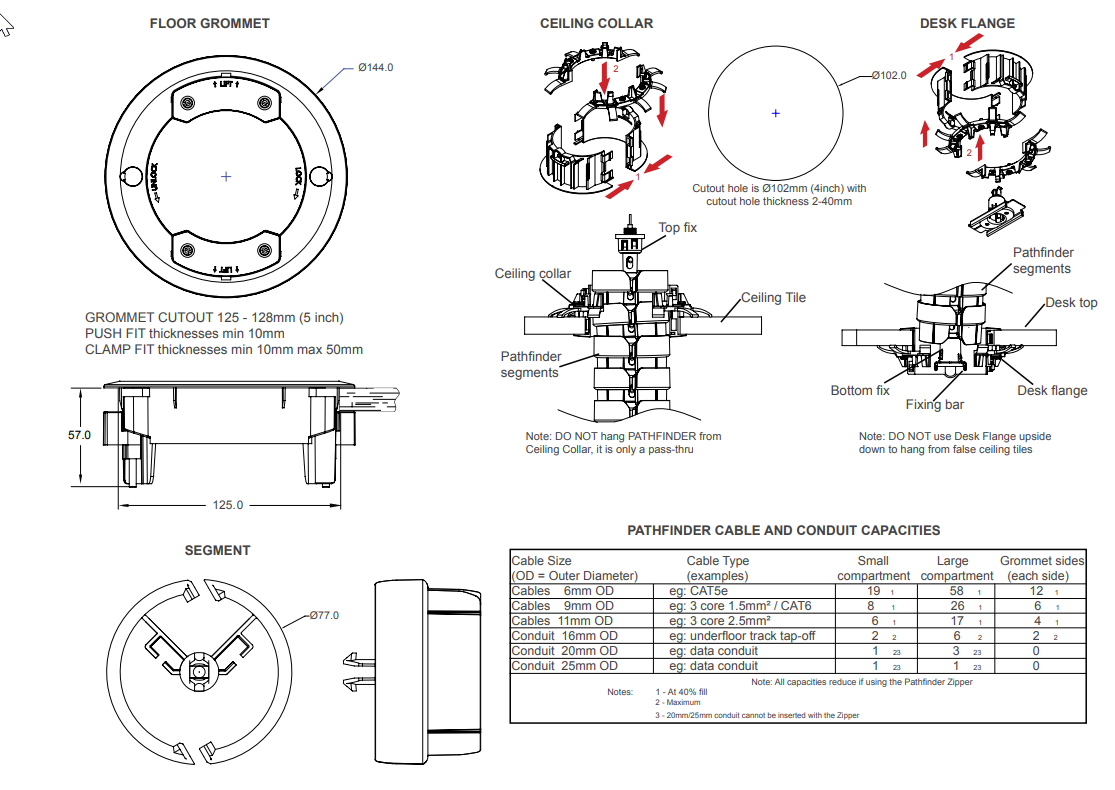 Availability / Ordering / Delivery / Returns
This product is 'made to order', so please note; it cannot be returned for exchange or refund.
Available for delivery throughout the UK, most of Europe, USA and Canada.
UK Standard delivery is 10 - 14 working days with this product via DPD.
UK Express delivery is 7 - 10 working days with this product via DPD.
European and International delivery is subject to different timescales depending on country and location in country.
Again, we must reiterate that this product cannot be exchanged or returned once ordered.
Rental
At the time of publishing, this product is currently not available for rental. Our rental division is constantly adding new products and stock to its rental inventory, so please do feel free to
chat with us
to check the latest situation.
Your payment information is processed securely. We do not store credit card details nor have access to your credit card information.