---
PANDORA offers an exciting new way to provide power to your meeting area. Compact, elegant and efficient, Pandora allows 360 degree access to international power and powerful 5A USB charging outlets.
---
---
Price Breaks
| Quantity Purchased | Discount |
| --- | --- |
| 25 - 49 | 5% |
| 50 - 99 | 10% |
| 100 + | 15% |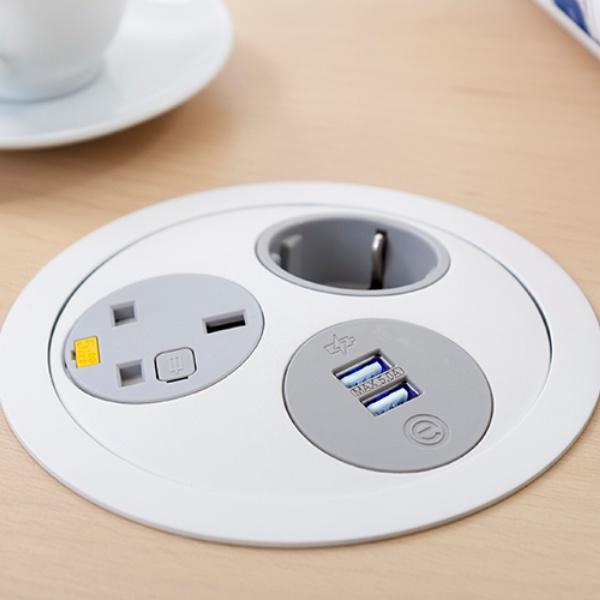 Recommend to a friend
Enter your friend's email address and a short message below and we'll send them an email about this product.
---
Please feel free to message us about this product at any time.
---
Description
Combining high quality design with compact features, PANDORA forms the perfect solution for your power distribution needs. PANDORA is available in black with stainless steel inlays, or with a bevelled edge in white or black.
Composed of impact resistant, 3mm super strong PC-ABS, PANDORA can easily withstand the day to day stresses of modern life. Suitable for the office, cafe, or hotel reception, PANDORA delivers a great solution for all.
Features
Rotates to open/close
360° socket access
OE TUF5A option
Optional decorative inlays
128mm+ grommet fit
Fitting neatly into a 128mm+ grommet hole with a near flush profile when closed, PANDORA rotates open to provide 360° socket access.
Great looks, simple installation and a choice of international socket options plus of course the class leading OE TUF5 Twin Fastcharger makes PANDORA perfectly suited to meeting tables, informal break out areas, and use in cafés and hotels .
PANDORA is moulded in either white (9003) or black PC/ABS for both excellent durability and appearance. As an alternative to the standard textured finish, the clean profile of PANDORA when not in use can be enhanced by optional brushed stainless steel inlays.

PANDORA DataSheet
Installation / Fixings
PANDORA drops into a 128mm* grommet hole e.g. in a table top and is then secured by tightening by hand the securing nut. No tools are needed once the grommet hole is cut, but access below/behind the fixing surface is required. Alternatively, a PANDORA with the inlay type grommet can be fixed to a surface via four screws without rear access being needed. The inlays will then cover the screw heads. 
Availability / Ordering / Delivery / Returns
This product is 'made to order', so please note; it cannot be returned for exchange or refund.
Available for delivery throughout the UK, most of Europe, USA and Canada.
UK Standard delivery is 10 - 14 working days with this product via DPD.
UK Express delivery is 7 - 10 working days with this product via DPD.
European and International delivery is subject to different timescales depending on country and location in country.
Again, we must reiterate that this product cannot be exchanged or returned once ordered.
Rental
PANDORA is not currently part of our rental stock; if you would like to enquire further about similar products that are available for rental then please call us on +44 (0) 330 330 9901 or email rentals@fulcrum.uk.com
Your payment information is processed securely. We do not store credit card details nor have access to your credit card information.