---
PANDA is a compact and distinctive design with various options for configuration for power and USB charging and fixings; along with decorative socket frames and end caps. Also available as PANDA-8 in the OE 8 colours.
---
---
Price Breaks
| Quantity Purchased | Discount |
| --- | --- |
| 25 - 49 | 5% |
| 50 - 99 | 10% |
| 100 + | 15% |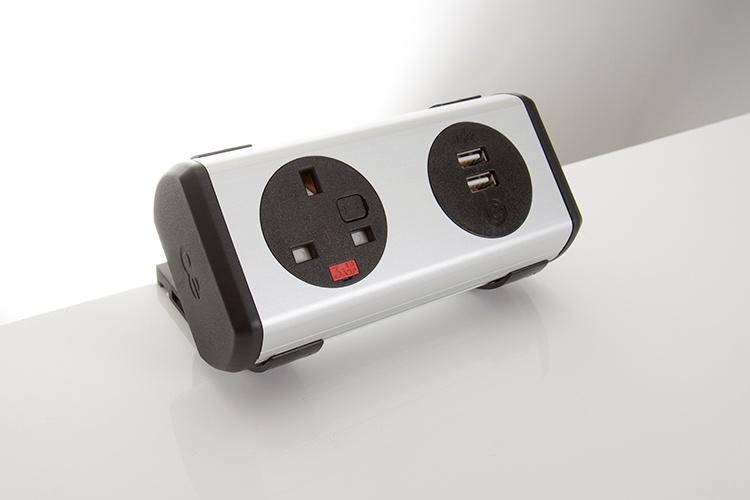 Recommend to a friend
Enter your friend's email address and a short message below and we'll send them an email about this product.
---
Please feel free to message us about this product at any time.
---
Description
PANDA reinvents the successful polarlCE concept of snap on decorative end-caps and socket frames with a distinctive and more compact design thus combining the functionality and style to suit the most demanding project requirements.
PANDA is available with back or white frames and black or white end caps and black or grey sockets for the high contrast "Panda" look.
For a more fun and distinctive option why not order the Panda-8 with a one piece aluminium frame in one of our 8 special paint colours with optional white sockets (UK BS1363 & TUF only). 
For the premium European look then specify PANDA with a natural anodised extruded aluminium front plate, with black sockets and end caps.
Features
Distinctive compact design
Moulded decorative socket frames and end caps
Flexible configuration and mounting options
BS5733, UL962A certified & CE marked as applicable
Standard unit sizes
The dimensions of our standard two gang PANDA vary depending on the power socket configuration chosen:
A) UK fused, UK un-fused, USA/Japan, Australian, Chinese
or
B) Schuko, French/Belgian, Swiss, Italian, Danish
Standard PANDA with plastic face-plates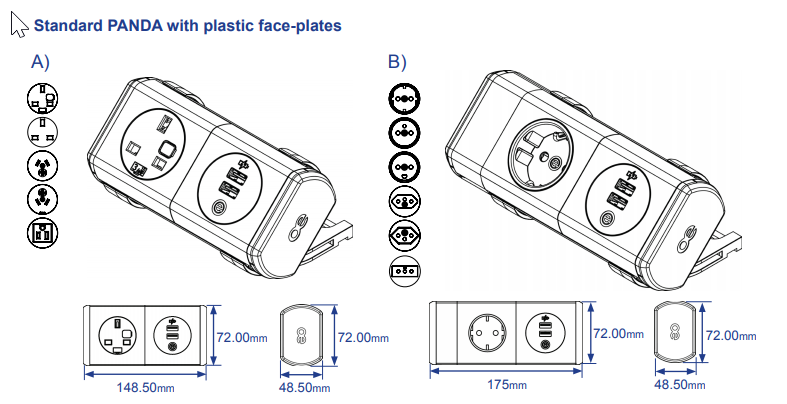 PANDA DataSheet
Installation / Fixings
Standard Fixings
QRB Quick Release Bracket 13 – 45mm
PCC Polar C Clamp Bracket 5-35mm
XCC Extended Clamp Bracket 25 – 55mm
TRA Toolrail/Panel Adaptor*
TRB Tool Rail Bracket*
Please message us to confirm screen/toolrail compatibility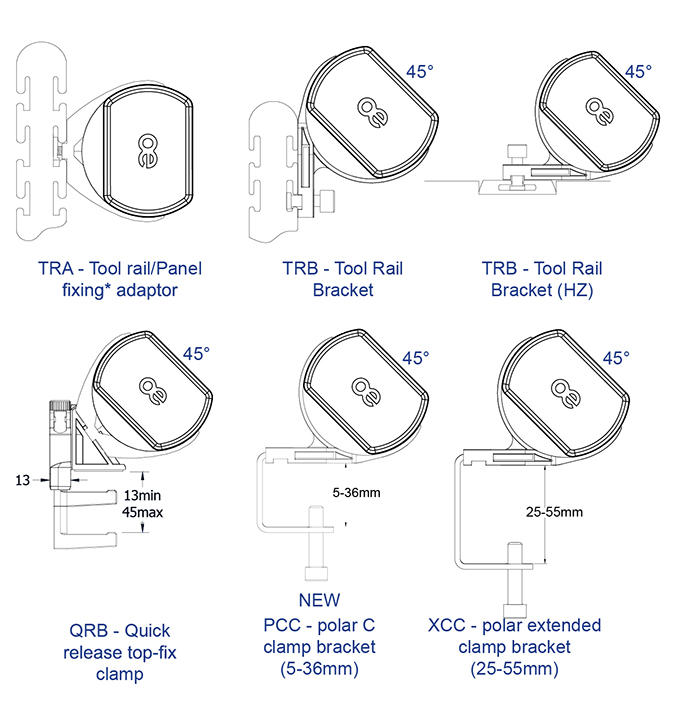 PANDA is designed to allow brackets to be changed on-site. Unless stated otherwise, PANDA can simply be moved (using the same bracket) or attached to another feature on the desk simply by changing the bracket
Availability / Ordering / Delivery / Returns
This product is 'made to order', so please note; it cannot be returned for exchange or refund.
Available for delivery throughout the UK, most of Europe, USA and Canada.
UK Standard delivery is 10 - 14 working days with this product via DPD.
UK Express delivery is 7 - 10 working days with this product via DPD.
European and International delivery is subject to different timescales depending on country and location in country.
Again, we must reiterate that this product cannot be exchanged or returned once ordered.
Rental
At the time of publishing, this product is currently not available for rental. Our rental division is constantly adding new products and stock to its rental inventory, so please do feel free to
chat with us
to check the latest situation.
Your payment information is processed securely. We do not store credit card details nor have access to your credit card information.