---
4 Mini Channels - Indoor & Design Solution - Available with a choice of black and grey colours the Defender® OFFICE cable protection system is the elegant solution for secure pedestrian traffic in conference facilities, exhibitions, public buildings, retail outlets, shopping malls, trade shows and offices.
---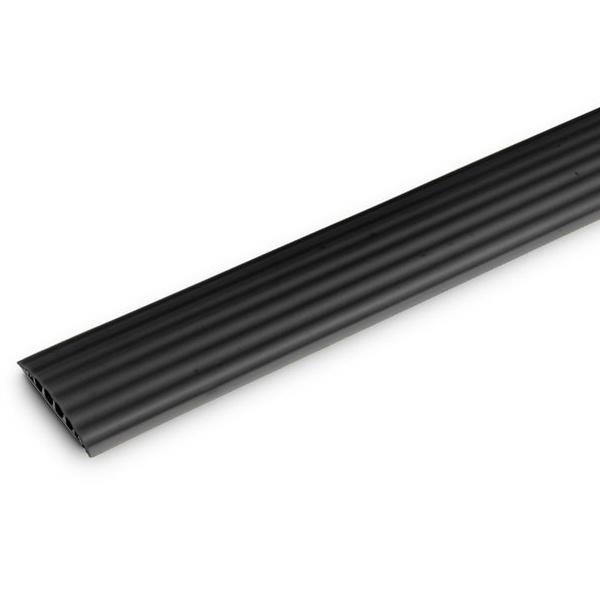 Recommend to a friend
Enter your friend's email address and a short message below and we'll send them an email about this product.
---
Please feel free to message us about this product at any time.
---
Description
Featuring straight, 90° and end ramps with cutting guides for length adjustment, zigzag connection and bolt holes for ground fixing the Defender® OFFICE system provides versatile cable routing while preventing tripping hazards.
non-slip, ultra-flat cable protector made of recyclable polyurethane for indoors
zigzag connector system, pre-drilled mounting holes, cutting guides for shortening
4 channels: 2 channels each  10 x 10 mm and 12 x 12 mm
complies with German workplace accident prevention regulations (§ 3 A1 ArbStättV)
fire resistance class B2 (DIN 4102), DEKRA-certified (DIN 31000, EN 61537)
resistant to oil, acids, solvents, and petrol
dimensions 87 x 12 x 2 cm; Weight 1.24 kg
reliable protection for cables and personnel
available in black and grey
curves and end ramps for flexible cable protection are available as accessories
Installation / Fixings
There are no further details for installation or fixing of this product.
Availability / Ordering / Delivery / Returns
There are no further specific availability, ordering, delivery, or returns terms applicable to this product. Standard terms apply.
Rental
This product is currently available to rent. Please contact our rentals division to discuss your requirements; chat online, email rentals@fulcrum.uk.com or call +44 (0) 330 330 9901.
Your payment information is processed securely. We do not store credit card details nor have access to your credit card information.