---
Charging Station with 6 Lockers
Safe and Easy Charging
Suitable for devices with Micro USB, USB-C or Lightning connection
---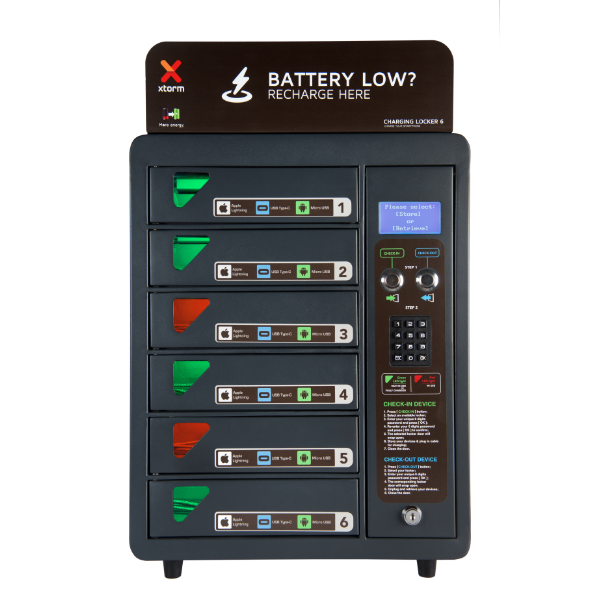 Recommend to a friend
Enter your friend's email address and a short message below and we'll send them an email about this product.
---
Please feel free to message us about this product at any time.
---
Description
The Charging Locker 6 allows visitors to charge their mobile devices safely. This innovative service will not only increase the amount of visitors, but also improve the customer experience.
More energy, more value 
The Charging Locker 6 is a charging station with six lockers. Each locker has three built-in charging cables; a Lightning cable, a Micro USB cable and a USB-C cable. This means that the locker can safely charge any smartphone.
Safe and easy 
The Locker is safe and easy to use, making it the perfect charging solution for busy areas. Thanks to the clear instructions displayed, visitors can use the Locker without any further assistance.
The Xtorm Charging Locker 6 is the perfect way of offering visitors the service they need. Give your business a boost with this professional charging solution.
Installation / Fixings
There are no further details for installation or fixing of this product.
Availability / Ordering / Delivery / Returns
There are no further specific availability, ordering, delivery, or returns terms applicable to this product. Standard terms apply.
Rental
At the time of publishing, this product is currently not available for rental. Our rental division is constantly adding new products and stock to its rental inventory, so please do feel free to
chat with us
to check the latest situation.
Your payment information is processed securely. We do not store credit card details nor have access to your credit card information.