---
Cable-Snake® CUBE with its 2D flex system is the ideal vertical cable management solution for 'sit-stand' height adjustable desks and podium tables.
---
---
Price Breaks
| Quantity Purchased | Discount |
| --- | --- |
| 25 - 49 | 5% |
| 50 - 99 | 10% |
| 100 + | 15% |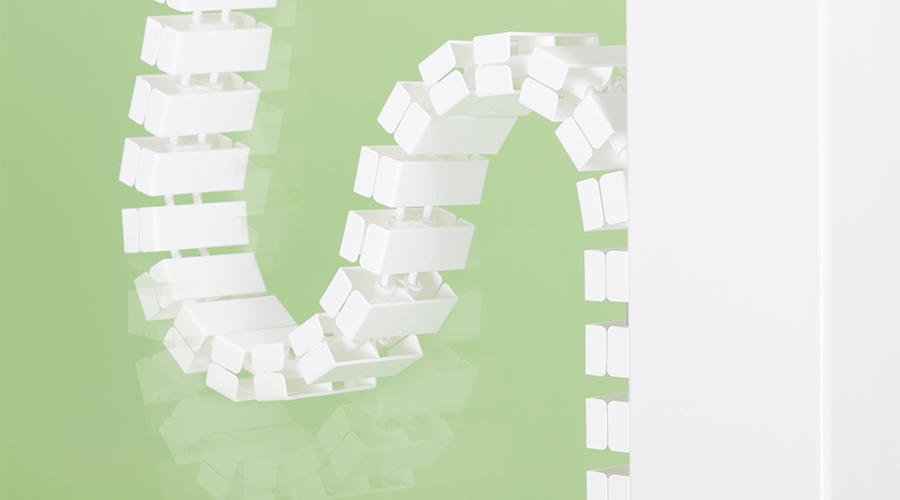 Recommend to a friend
Enter your friend's email address and a short message below and we'll send them an email about this product.
---
Please feel free to message us about this product at any time.
---
Description
The compact and elegant twin compartment CUBE umbilical enables efficient management and segregation of power and data cables from floor box to desktop and integrates seamlessly with EasyClamp and QikTRAY. The Easy Zip system means cables can be quickly inserted into and removed from CUBE without the need for a special tool.
The CUBE 2D section is optimised for ergonomic furniture such as height adjustable desks so that it unrolls automatically in one plane only, just like a caterpillar track. 
Compact
Available in white & black, clear or silver on special order, please enquire.
Integrates with EasyClamp
Easy to assemble Kit
Installation / Fixings
CUBE 2D Kit/W 
1 x 1250mm 42 section Cable-Snake® CUBE®
1 x Easy-Floor weighted base
1 x Easy-Desk 2B screw fix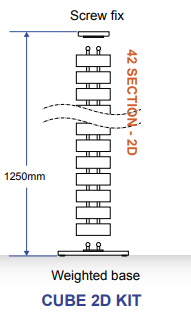 Availability / Ordering / Delivery / Returns
This product is 'made to order', so please note; it cannot be returned for exchange or refund.
Available for delivery throughout the UK, most of Europe, USA and Canada.
UK Standard delivery is 10 - 14 working days with this product via DPD.
UK Express delivery is 7 - 10 working days with this product via DPD.
European and International delivery is subject to different timescales depending on country and location in country.
Again, we must reiterate that this product cannot be exchanged or returned once ordered.
Rental
At the time of publishing, this product is currently not available for rental. Our rental division is constantly adding new products and stock to its rental inventory, so please do feel free to
chat with us
to check the latest situation.
Your payment information is processed securely. We do not store credit card details nor have access to your credit card information.