Bluetti Poweroak AC200P 2000Wh/2000W Portable Power Station Solar Generator
---
BLUETTI AC200P (UK version) Portable Power Station - Large Capacity, High Power. Home Backup Power.
Keep your equipment running indoors and outdoors.
2000Wh/2000W Higher Output/Larger Capacity
13 Output Ports Meet Multiple Devices
Flexible 5 Recharge Ways(AC/Solar/Car/Generator/Lead acid batterry)
Smart Touchable Interaction LCD Display
700W Solar+500W AC Recharge in 2-2.5Hrs
Dual AC adapter(500W) Fast recharge in 2-2.5Hrs
Eco-friendly/Gas free/Quieter/Cost-effective
Tips: The open circuit voltage of AC200P is between 35V-150V, please make sure solar panels' open circuit voltage is in the correct range, otherwise it may cause low voltage/overvoltage protection. In addition, considering the loss of solar panels during conversion, the effect of 2 panels is not good. We suggest to connect at least 3pcs of the Bluetti solar panel in series.
---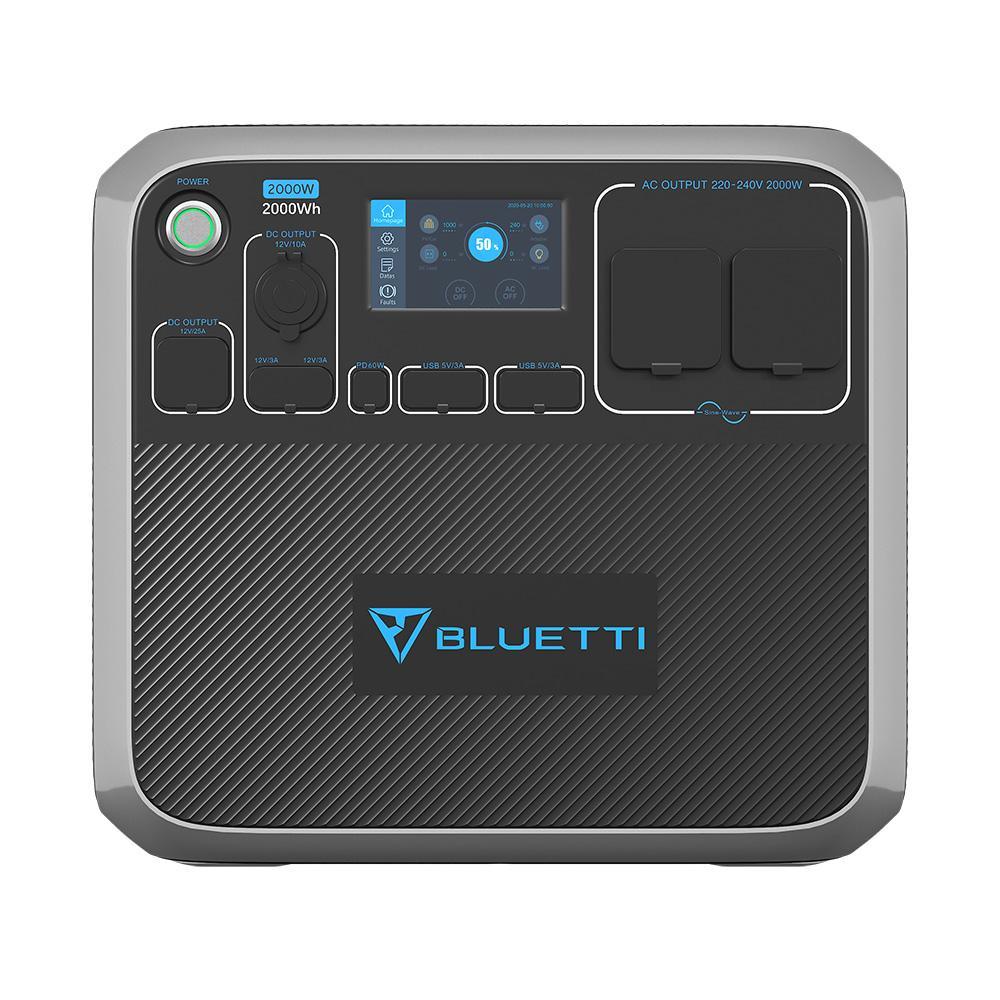 Recommend to a friend
Enter your friend's email address and a short message below and we'll send them an email about this product.
---
Please feel free to message us about this product at any time.
---
Description
Specially designed for high-power devices such ss electric grill, air conditioner, drill, kettle, coffee maker (max 2000W)
Built In LiFePO4 Battery Cell, Safety & Quality Are Rest Assured. 3500+ Super Long Life Cycle, Higher Discharge Rate.
Refrigerator(800w) 2.1Hrs+
CPAP(60w) 28+ Hrs
Laptop(60w) 28+ Hrs
Fan(12w) 140+ Hrs
Smartphone 180+ Hrs
Led Lantern Light(10w) 170+ Hrs
LCD TV(100w) 17+ Hrs
Specifications
Info

AC200P

Capacity


2000Wh / 0000W (Surge 4800W)

Cycle Life

3500+ cycle

Cell Chemistry

LifePo4




Warranty

2 Years


Color

Black

Weight


60.6 lbs / 27.5 KG

Dimension

16.5 × 11 × 15.2 inch /
419.1 × 279.4 × 386.1 mm


Shelf-Life

'MPPT'Charge Controller /
Low Battery Protection

Operating Temperature

0-40°C/10%-90%

Shelf-Life

Charge Every 3-6 months
Charging Method

Charging time

AC Adapter (included): 400W

About 4.5 hours 

(42V/160W, OCV 16V~68V /MAX.10A)

 

Car Charger (included): 12V/24V

About 14 hours /12V, About 7 hours /24V

Solar Panel (Not Included): 35-150V, Max 700W, Max 12A

About 4-7 hours
Output Ports
2 × AC 220-240V output (max. 2000W, pure sine wave)
1 × DC12V/25A
DC12V/10A
2 x DC 12V/3A
4 × 5V/3A USB-A
1 x PD 60W USB-C Faster Charge (5V/3A, 9V/3A, 12V/3A,15V/3A, 20V/3A)
2* Wireless Charging (Single Output Max 15W)

Note: Support PV+Adapter Charge Simultaneously. Max 1200W,1.7-2.7Hrs To Fully Recharge It.
WHAT'S IN THE BOX
| Product | Quantity |
| --- | --- |
| Bluetti Generator AC200P | × 1 |
| 400W AC Wall Charger | × 1 |
| PV Solar Charging Cable (MC4 To XT90) | × 1 |
| Car Charing Cable (Car To XT90) | × 1 |
| XT90 To Aviation Plug (Input) | × 1 |
| User Manual | × 1 |
| Warranty Card | × 1 |
| Certificate Of Qualification | × 1 |
FAQs
What is the material of the AC200P?
Uses PC+ABS 94V0 flame retardant material and aluminum outsourcing TPU for the handle part.
What kind of the battery chemistry is used?
2000WH/2000W, LiFePO4 battery cell
What will the noise output be? 
It has smart fan start-up mode. Fans turn on/off based on the internal temperature and the loads. → load<1500W, Max.45dB; load>1500W,Max.54dB
What is the length of the MC4 cable
There will be a 1.7m MC4 to Aviator cable comes with the AC200P, and the original cable with the solar panel is 3 meters long.
Can you charge and discharge this simultaneously and under what input and output loads?
Yes you can. However, in order to better protect the cycle life of the battery, it is not recommended to charge and discharge the battery at the same time.
How long will it take to fully charge by car charging?
18 hours under 12V, 9 hours under 24V.
How much capacity does AC200P have after 3500+ cycles?
AC200P can maintain above 80% capacity after 3500+ cycles
How long will the Bluetti run my device?
Battery Capacity × DOD × η ÷ (load W) = charging time(unit:h) Note: DOD is the battery discharge depth, η is the local inverter efficiency AC200P: DOD=90%,η=88%
What is the surge power of BLUETTI AC200P?
It can reach up to 4800W max.
How can the AC200P save more power?
The user can customize the ECO mode, and choose to turn on and off.
Installation / Fixings
There are no further details for installation or fixing of this product.
Availability / Ordering / Delivery / Returns
There are no further specific availability, ordering, delivery, or returns terms applicable to this product. Standard terms apply.
Rental
At the time of publishing, this product is currently not available for rental. Our rental division is constantly adding new products and stock to its rental inventory, so please do feel free to
chat with us
to check the latest situation.
Your payment information is processed securely. We do not store credit card details nor have access to your credit card information.