Bluetti AC50S 500Wh/300W Portable Power Station
---
BLUETTI AC50S (UK version) 500Wh/300W Portable Power Station - Keep your devices running, indoors and out.
Smaller, lighter design, No Fuel, No Fumes & No Noise. A cleaner, safer and quieter alternative to diesel backup generators.
*Regulated 12V DC Output, run your 12V appliances without reduction.
*Designed to power drones, camera equipment, laptops, phones and more.
Regulated 12V DC Output
3 Charge Methods (Solar Panel, AC Wall Outlet, Car Charge)
Industry-leading Outputs (AC and 45W PD USB-C Power port)
MPPT Built-In
Intelligent Cooling System
Ultra-safe Lithium Battery
LED Lantern+SOS function
---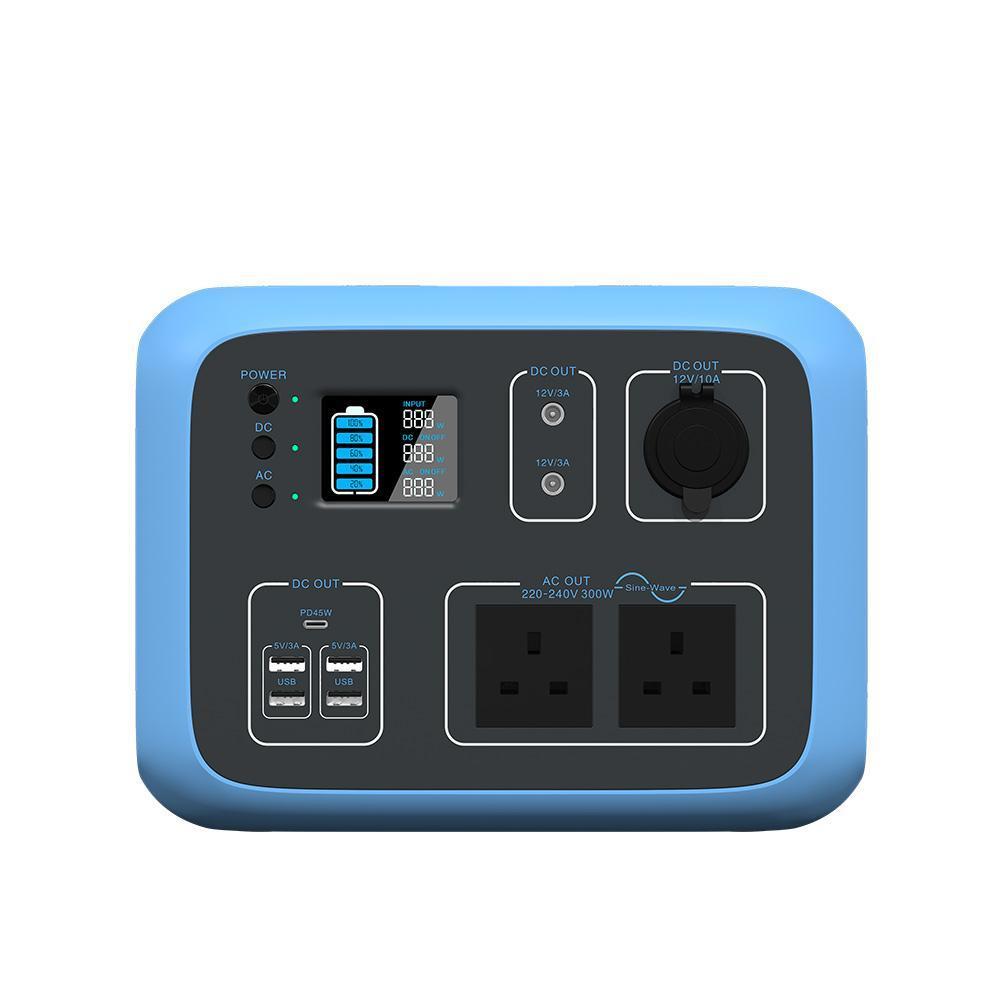 Recommend to a friend
Enter your friend's email address and a short message below and we'll send them an email about this product.
---
Please feel free to message us about this product at any time.
---
Description
Info

AC50S
Capacity


500Wh / 300W (Surge 450W)

Cycle Life

1000+ cycle

Cell Chemistry

Lithium




Warranty

2 Years


Colour

●

 

●

 



Weight


13.6 lbs / 6.2 KG

Demension

16.5 × 11 × 15.2 inch /
259.5 × 191 × 196mm

Management System
'MPPT'Charge Controller /
Low Battery Protection

Shelf-Life

Charge Every 3-6 months
Charging Method

Charging time

AC Adapter

About 4.5 hours (

220-240V 50/60Hz

) 

Solar Panel (Not Included)

About 15 hours (

via 12V adapter

)

Solar Panel (Not Included)

About 4-5 hours (120W)
Output Ports
2 × AC Output (AC 220-240V 50/50Hz)

1 × Wireless Charging: 10W
2 × DC 12V/3A(5521)
1 × DC 12V/10A (Car Cigarette Lighter)
1 × Type-C PD 45W
4 × USB-A 5V/3A)
WHAT'S IN THE BOX
| Product | Quantity |
| --- | --- |
| BLUETTI Generator (AC50S) | × 1 |
| AC Wall Charger Cable | × 1 |
| Cigarette Lighter Cable (Cigarette Port to DC7909 Connector Male) | × 1 |
| MC4 Cable (MC4 Connector to DC 7909 male) | × 1 |
| USB Type-C Cable | × 1 |
| User Manual | × 1 |
FAQs
How do I check the state of charge?
The battery icon display on the LCD display shows the battery level and charge status.
What kind of devices can Bluetti AC50S power?
Please note that the AC output ports can charge/power devices only operate at less than 300 Watts, and the gross power should be under 300 Watts as well or AC50S will shut off automatically for circuit protection. Please make sure your device is compatible with AC50S before purchase.
How do I figure out the recharge times of my device?
Working time = 500Wh* 85% / rated power of your device For reference, assuming the device features rated power 60W (might be a laptop), the working time will be 500Wh*85% / 60w=7hrs (Estimated time). Please note: actual power consumption varies from different usages.
What is the depth of discharge (DOD)?
To prolong the battery life, the product has a DOD setting to 90%, which means that only 90% of the battery capacity can be discharged, and retain 10% to avoid damage to the battery due to excessive discharge..
What kind of battery cell is used in the AC50S power station?
We built an Auto-Level 3C rated Li-ion battery cell, it has a longer cycle time, low heat, higher discharge rate than other ordinary battery core..
Can it charge and discharge simultaneously?
Yes, but it is not recommended to charge and discharge at the same time in order to protect the battery life.
How do I choose a compatible Solar panel?
It must meet: 1)Open Circuit Voltage (OCV): 12-40V/Max.10A, Max.120W (DC7907 to MC4 Charging cable is included) 2)MC4 Connector Tips: make sure the total OCV (open circuit voltage) is no more than 40V if you connect several solar panels in series!!!
Can the AC output carry a refrigerator or air conditioner?
Workable for low power, and over 100W is not recommended. The starting power of refrigerators and air conditioners are generally 5~7 times more than the rated power, which easily triggers AC overload.
How long should I recharge the AC50S power station if I do not use it for a long time?
We suggest recharging it every 3 or 6 months to better protect the battery cell and ensure a longer life cycle.
How do I extend the using time of CPAP?
Recommend to turn off its humidifier, heater, and set a lower pressure.
Installation / Fixings
There are no further details for installation or fixing of this product.
Availability / Ordering / Delivery / Returns
There are no further specific availability, ordering, delivery, or returns terms applicable to this product. Standard terms apply.
Rental
At the time of publishing, this product is currently not available for rental. Our rental division is constantly adding new products and stock to its rental inventory, so please do feel free to
chat with us
to check the latest situation.
Your payment information is processed securely. We do not store credit card details nor have access to your credit card information.