---
If black is your colour then you will love BlackICE. With matching design and build quality to our best selling PolarICE module, BlackICE offers the same power, data and AV connectivity options in a striking satin black finish.
---
---
Price Breaks
| Quantity Purchased | Discount |
| --- | --- |
| 25 - 49 | 5% |
| 50 - 99 | 10% |
| 100 + | 15% |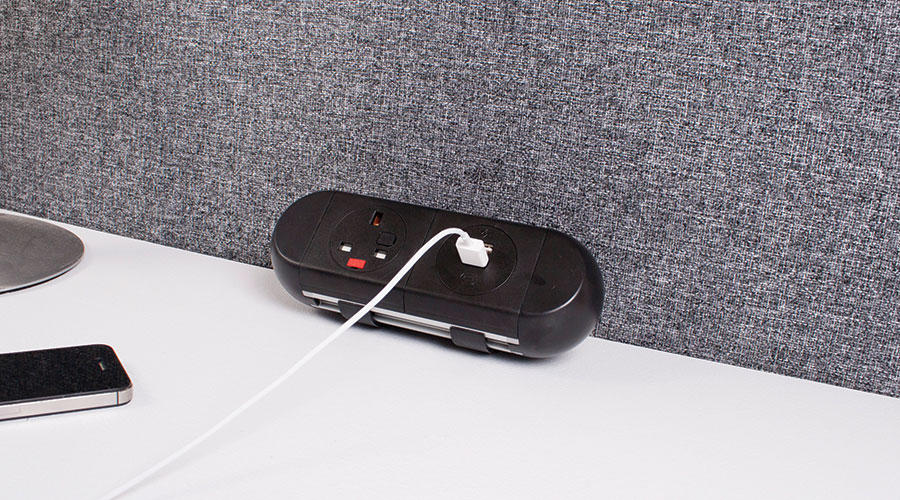 Recommend to a friend
Enter your friend's email address and a short message below and we'll send them an email about this product.
---
Please feel free to message us about this product at any time.
---
Description
Clip on moulded front and rear decorative frames and a choice of round or flat end caps, create a original and distinctive design that separates BlackICE from other desk top modules.
BlackICE can be ordered with a wide range of European and International power sockets from the OE modular range,  including Nema 5-15 sockets for North America. In addition a range of bracket options is available for quick installation of BlackICE on desk tops of varying thickness, tool and equipment rails and furniture panels.
Extras:
Polar Extended Clamp Bracket - for desks 25mm-55mm (black clips)
Polar Quick Release Bracket - for desks 13mm-45mm (grey clips)

blackICE DataSheet
Installation / Fixings
Standard fixings
QRB Quick Release Bracket 13 – 45mm
PCC Polar C Clamp Bracket 5-35mm
XCC Extended Clamp Bracket 25 – 55mm
TRA Toolrail/Panel Adaptor*
TRB Tool Rail Bracket*
*Please call to confirm screen/toolrail compatibility 
Availability / Ordering / Delivery / Returns
This product is 'Made to Order', so please note; it cannot be returned for exchange or refund.
Available for delivery throughout the UK, most of Europe, USA and Canada.
UK Standard delivery is 10 - 14 working days with this product via DPD.
UK Express delivery is 7 - 10 working days with this product via DPD.
European and International delivery is subject to different timescales depending on country and location in country.
Again, we must reiterate that this product cannot be exchanged or returned once ordered.
Rental
BLACK ICE is not currently part of our rental stock; if you would like to enquire further about similar products that are available for rental then please call us on +44 (0) 330 330 9901 or email rentals@fulcrum.uk.com
Your payment information is processed securely. We do not store credit card details nor have access to your credit card information.