---
Advanced Resonant Charger - Wireless Charging
10W Fast Wireless Charger
Lose those annoying cables and get charging with ARC80.
Simply rest your wireless compatible device on our wireless charger for a fast convenient charge.
Apple & Samsung compatible.
Simple installation.
---
---
Price Breaks
| Quantity Purchased | Discount |
| --- | --- |
| 25 - 49 | 5% |
| 50 - 99 | 10% |
| 100 + | 15% |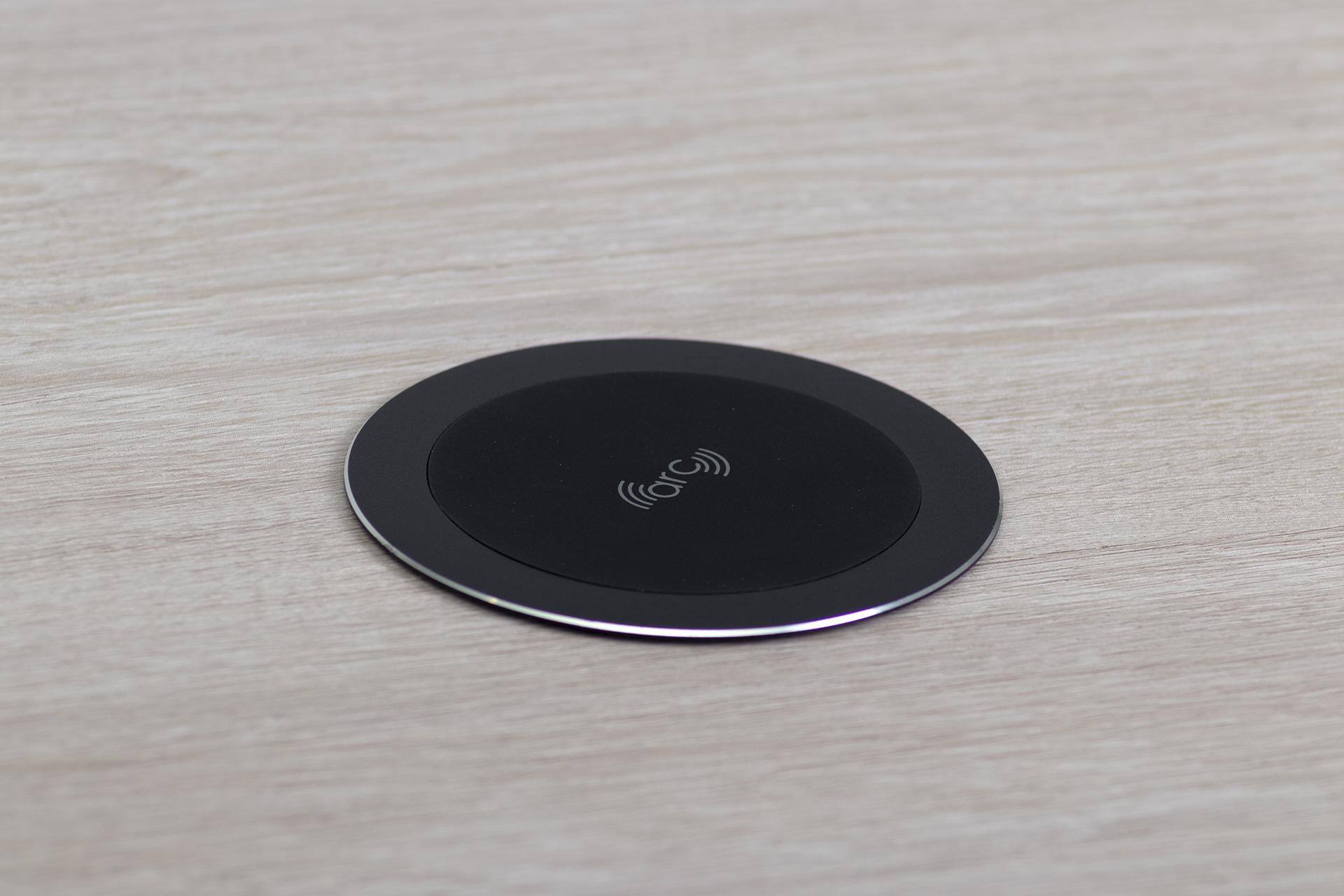 Recommend to a friend
Enter your friend's email address and a short message below and we'll send them an email about this product.
---
Please feel free to message us about this product at any time.
---
Description
Advanced Resonant Charger - Wireless Charging
NO NEED FOR UNNECESSARY CABLES – GET CHARGING WITH ARC80
ARC80 allows you space to breathe; freeing you of annoying cables and giving you the convenience to charge your phone quickly and effectively.  Perfect for the office, casual seating areas, libraries and cafes, ARC80 uses the latest wireless charging technology, to provide you with wireless power whenever you need it.
Quick and easy to install, ARC80 fits neatly into a standard 80mm hole and once connected, provides wireless charging instantly. There's no longer any need to crawl on the floor looking for a powerpoint; ARC80 uses the most advanced wireless charging technology to power your devices without the need for cables. simply rest your wireless-enabled device on ARC80 and let it work its magic!
GO WIRELESS
Compatible with both Samsung 10W and Apple 7.5W charging modes in addition to the standard 5W charge, ARC80 provides instant wireless charging, ideal when you need a quick boost. Made to provide power in those short stay, stop off areas where you wouldn't have charged before, such as cafes, waiting rooms, and other casual, communal seating areas, ARC80 will keep your device powered wherever your day takes you.

ARC80 DataSheet
SPECIFICATIONS
Output power: 10 W (DC5V 1A / 9V 1.1A)
Input power: 15 W Max (DC5V 2A / 9V 1.67A)
Standby power: 0.45W
Charging Z-Distance: 0-8mm (coil to coil)
Desk Cutout size: 80 mm
Desk Thickness: 2-35 mm (Reversible fixing collar for 2-18 and 18-35 mm)
Certification: CE
Housing Material: Anodised Aluminium
Available colours: Black centre with a black anodised aluminium rim / White centre with a silver anodised aluminium rim.
In the box: ARC80 wireless charger, Micro USB cable, fixing tool
*USB cable included Plug-top charger sold separately.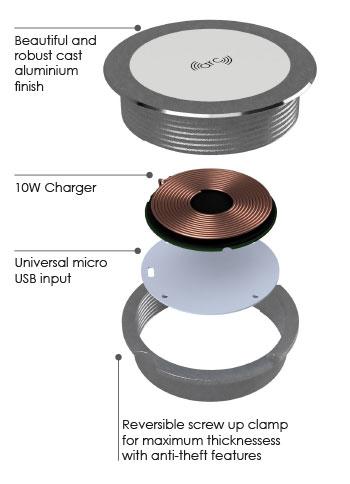 Dimensions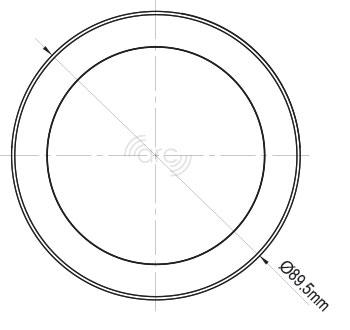 Installation / Fixings
Fitting
The reversible fixing collar can be used to accommodate desk thicknesses from 2-18mm in position A and 18-35mm in position B.
A) For thin surfaces

B) For thick surfaces (Turn fixing collar upside down)

Place ARC80 into an Ø80mm cut-out, and tighten the fixing collar by hand in the position best suited to the thickness of your surface.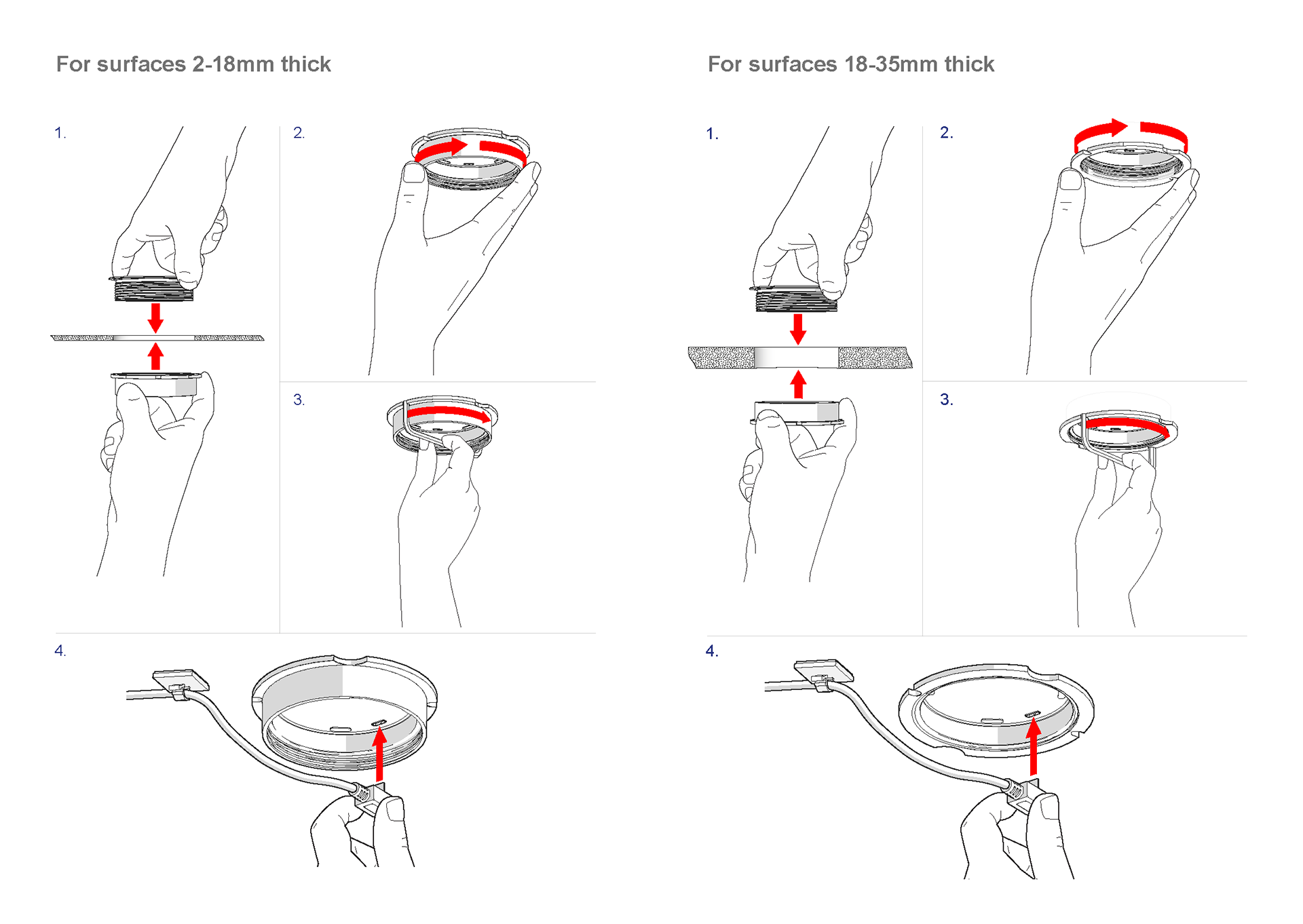 Download ARC80 Fitting Instructions
Cutout dimension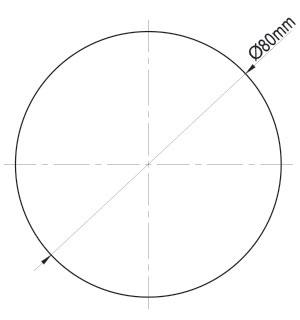 Availability / Ordering / Delivery / Returns
This product is 'made to order', so please note; it cannot be returned for exchange or refund.
Available for delivery throughout the UK, most of Europe, USA and Canada.
UK Standard delivery is 10 - 14 working days with this product via DPD.
UK Express delivery is 7 - 10 working days with this product via DPD.
European and International delivery is subject to different timescales depending on country and location in country.
Again, we must reiterate that this product cannot be exchanged or returned once ordered.
Rental
At the time of publishing, this product is currently not available for rental. Our rental division is constantly adding new products and stock to its rental inventory, so please do feel free to
chat with us
to check the latest situation.
Your payment information is processed securely. We do not store credit card details nor have access to your credit card information.